NFL's Fletcher Cox sued for ruining marriage, seducing NC man's wife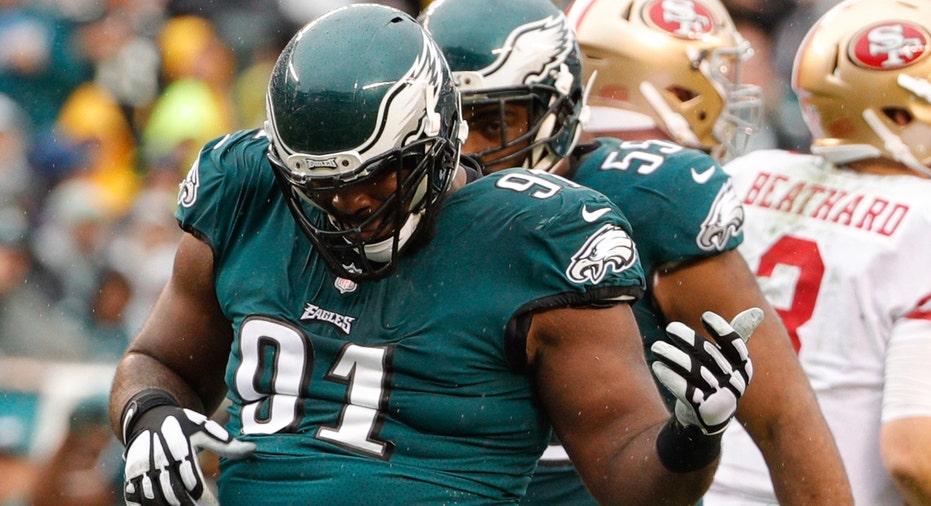 A North Carolina man is suing Philadelphia Eagles defensive tackle Fletcher Cox for at least $50,000 in damages, alleging that the NFL star seduced his wife and ruined his marriage.
The lawsuit, filed by Joshua Jeffords of Huntersville, North Carolina, accuses Cox of "alienation of affection." Jeffords said his marriage fell apart last September after he learned that his wife was in communication with Cox through text messages and Snapchat, the Charlotte Observer reported.
Cox purportedly met the woman, whose name was not released, when she traveled to Philadelphia on a business trip. The Eagles lineman allegedly sent the woman explicit photos and text messages about starting a family together.
Jeffords said his wife repeatedly traveled to Pennsylvania and moved there last October after he confronted her about the affair. He said in the lawsuit that the affair caused him "substantial emotional distress."
Cox, 26, has spent his entire six-year NFL career with the Eagles. A two-time Pro Bowl selection, he signed a six-year, $102 million contract with the franchise before the 2016 season.
Cox has yet to publicly respond to the allegations. TMZ Sports was first to report the lawsuit.