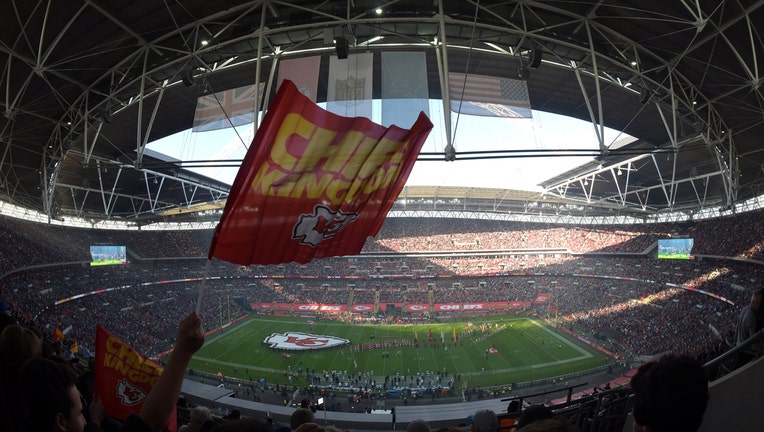 The NFL will play three regular-season games at two London stadiums in 2016 in the next incarnation of its burgeoning "International Series," the league announced Thursday.
"The passion our UK fans have shown for the NFL is overwhelming," NFL Commissioner Roger Goodell said in a statement.  "We are very appreciative of the strong and growing fan support, not only for the games, but for all of the related NFL events we host in the UK throughout the year. We look forward to welcoming new fans to their first NFL game in 2016 and welcoming back thousands of others that are helping our sport grow to new levels of popularity in London and beyond."
Next year's slate of London-based games will kick off in Week 4 of the 2016 season. The Jacksonsville Jaguars host AFC South rival Indianapolis Colts at Wembley Stadium on Sunday, October 2. The 2016 International Series will continue in Week 7, when the St. Louis Rams face off against an unspecified team from the NFC's East division at London's Twickenham Stadium.
The Rams' opponent will be determined by which NFC East team finishes the 2015 season at the same divisional ranking as St. Louis does in the NFC West. The league will either select the New York Giants, the Philadelphia Eagles, the Washington Redskins or the Dallas Cowboys. It will be the first NFL game ever played at Twickenham. The NFL agreed earlier this month to play at least one game at Twickenham every season from 2016 to 2018.
Next season's London series will conclude in Week 8, when the Cincinnati Bengals host the Redskins at Wembley Stadium. The NFL said it would announce at a later date the game's kickoff times, as well as the possible addition of another International Series game in another country.
The NFL held its first International Series in 2007. The league says it has more than 13 million fans in the United Kingdom.