NFL Passes New Rules for Player Safety, Pace of Play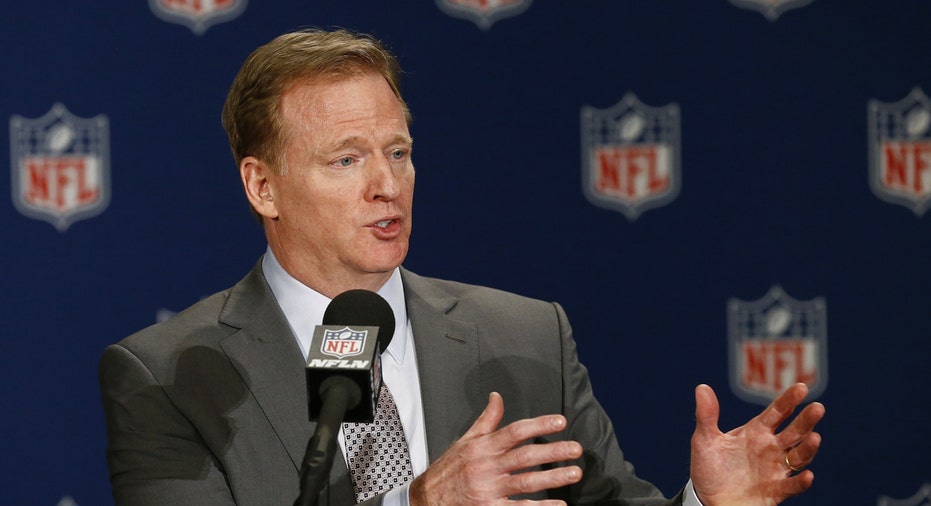 Time to celebrate?
NFL fans could see an enhanced flow of play and fewer restrictions on how demonstrative players can be in their jubilation after big plays.
At the busy league meetings Tuesday, owners passed several rules changes, adopting resolutions they believe will speed the game and improve player safety. They also put off until their May gathering in Chicago potentially allowing a bit more creativity in player celebrations.
Commissioner Roger Goodell asked that any adjustments in the rules be tabled so he could meet with players to "bring clarity to the rules while allowing players more ability to celebrate" while avoiding over-the-top demonstrations. He can expect lots of feedback from those players.
The team owners, who on Monday approved the Oakland Raiders' move to Las Vegas, were apprised of ways the overall time of games can be shortened. Much of that will come through a reduction in the number of commercial breaks per quarter.
But a change in handling officiating of video replays also will serve that purpose, as well as provide more consistency in making calls, the league believes.
Referees will now watch replays on the field using Surface tablets, eliminating "going under the hood" to watch on television monitors. League officiating chief Dean Blandino and his staff in New York will make the final decisions on those calls, with input from the referee, who in the past was the ultimate arbiter after consulting with league headquarters.
"We've been doing this for three seasons, since 2014," Blandino said of the centralized reviews. "It's worked in the replay process."
Blandino, who has two assistants who also can make the final decisions at the officiating headquarters, said he has no concern about being undermanned during a heavy schedule.
There are plenty of other things fans can look for in 2017:
—"Leapers" trying to block field goals or extra points have been outlawed.
That was a slam dunk, and passed unanimously.
"To a person, the players association was quick to say 'we don't like this play,'" competition committee chairman Rich McKay said. "That absolutely always plays a part in our decision. It was an easy play to get out."
—Made permanent was the rule disqualifying a player who is penalized twice in a game for specific unsportsmanlike conduct fouls. McKay noted that just because ejections and suspensions for egregious hits have been made a permanent rule instead of a one-year deal doesn't mean the league has a problem. The committee believes suspensions are "the ultimate detriment to players" and will curb any further incidents.
—Crackback blocks by a backfield player who goes in motion no longer are legal.
—An unsportsmanlike conduct penalty for committing multiple fouls during the same down with the purpose of manipulating the game clock will be instituted.
Unchanged is the length of overtime in the regular season; a proposal to drop it from 15 minutes to 10 was tabled, a subject likely to be addressed at the May meetings in Chicago.
Giants coach Ben McAdoo agreed when asked if a 10-minute overtime could make it more difficult for both sides to have a possession, as now required if the receiving team in OT doesn't score a touchdown on its first series.
Also tabled was eliminating the mandatory summer cutdown to 75 players, which would leave only one cut at the end of preseason.
Voted down were suggestions to permit coaches to challenge any officials' decisions other than scoring plays and turnovers, which automatically are reviewed. Washington's proposal to move the line of scrimmage to the 20-yard line instead of the 25 if a kickoff is sent through the uprights was defeated.
Withdrawn were proposals to award a third coaches' challenge as long as a team was correct on one of its first two challenges instead of on both; eliminating the maximum of three challenges entirely; and permitting a club to negotiate and reach a contract with a head coaching candidate anytime during the postseason. Now, there is a specific window for interviewing such candidates, whose season must be over before they can be hired.
The league also discussed allowing players and coaches on the sidelines to use the tablets to watch video, but that was not on the voting agenda Tuesday. For now, they can only look at still photos on the tablet.