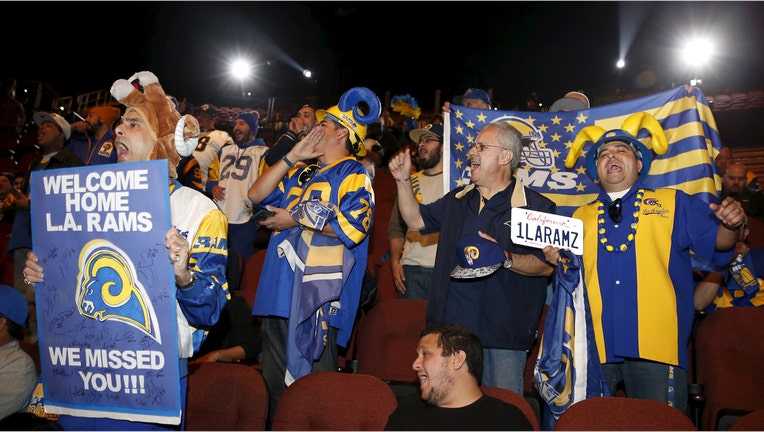 The NFL's 32 team owners voted Tuesday to award the city of Los Angeles hosting rights to Super Bowl LV in 2021. League officials announced the decision at the NFL's spring owners meeting in Charlotte, North Carolina.
Los Angeles earned hosting rights just months after the NFL approved the relocation of its Rams franchise from St. Louis. Super Bowl LV will take place at the Rams' new multibillion-dollar stadium in Inglewood, California – the centerpiece of team owner Stan Kroenke's relocation proposal. Construction on the stadium, which has yet to be named, is scheduled to be finished in time for kickoff of the 2019 NFL season. Los Angeles last hosted the Super Bowl in 1993.
"We are honored that the NFL is bringing the Super Bowl to Los Angeles in 2021. The League's selection of Los Angeles is a testament to its commitment to innovation and diversity, and I couldn't be prouder of our winning bid," Casey Wasserman, chairman of the Los Angeles Super Bowl Bid Committee, said in a statement. "Stan Kroenke's vision for the Rams stadium and the surrounding campus makes Inglewood an ideal venue for staging the Super Bowl of the future, and we look forward to inviting the nation and the world to L.A. for an historic fan experience."
All three cities that earned Super Bowl hosting rights are in the process of building a new arena or renovating an existing one. League owners also awarded Super Bowl LIII in 2019 to the city of Atlanta, where the Falcons plan to open a $1.4 billion new stadium in 2017. Super Bowl LIV in 2020 will take place in South Florida at the freshly-renovated home of the Miami Dolphins.
The NFL's Super Bowls in 2017 and 2018 will take place at NRG Stadium in Houston, Texas and U.S. Bank Stadium in Minneapolis, Minnesota, respectively.
Team owners also approved an overhaul of the NFL's in-game replay system that will allow referees to consult the league's officiating department on certain playing rules, such as the application of penalty yardage.