NFL appeals Ezekiel Elliott's suspension injunction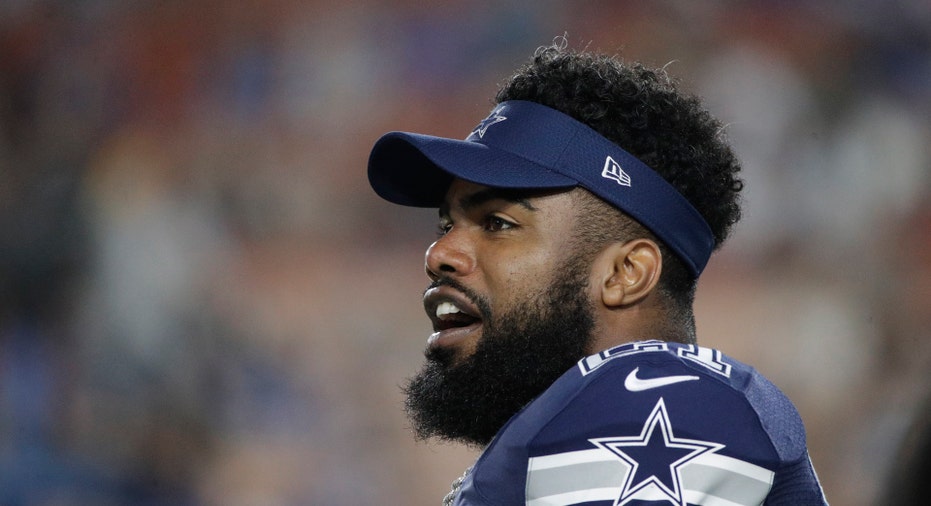 Ezekiel Elliott and the NFL are not finished fighting over his six-game suspension.
The NFL filed an appeal Monday of the Fifth Circuit Court injunction of Elliott's suspension that permitted Elliott to take the field Sunday night for the Dallas Cowboys. The running back was found to be in violation of the personal conduct policy by the NFL and his appeal through league arbitration channels was denied by Harold Henderson.
But just over 48 hours before kickoff, Elliott and the NFLPA scored a temporary victory when a Fifth Circuit judge in Texas granted a temporary injunction.
The NFL quickly indicated it would review all legal options, and officially filed the appeal Monday.
Elliott talked to reporters after rushing for 104 yards on 24 carries in the Cowboys' 19-3 win against the New York Giants on Sunday night.
"Just relieved for the fact that I finally get a fair trial," Elliott said. "I finally get a chance to prove my innocence and just happy that I'll get to be with the guys for as long as permitted and not miss time and not having to be away from them.
"It's definitely been a tough last 14 months. At times it's gotten so hard you start to lose faith."
In granting the injunction last week, a judge sided with Elliott and the NFLPA in questioning the fairness of his appeal hearing with Henderson in which his accuser was not cross-examined and NFL commissioner Roger Goodell was not made available to Elliott's attorneys for questioning.
Whether Elliott stays on the field will be decided in court.
The appeals process is unlikely to be a court priority and it is possible Elliott will play the entire season, as was the case when Patriots quarterback Tom Brady took his Deflategate suspension to the higher courts. Brady played the entire 2015 season before a ruling finally came forcing him to sit the first four games of the 2016 season.