Next Stop $1,000? Google Soars Above $900, Unveils Music Service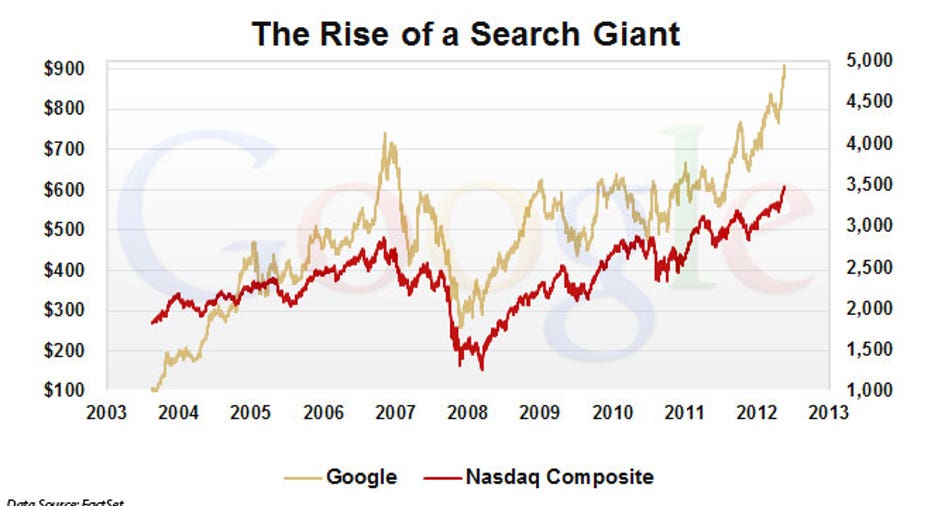 Shares of Google (NASDAQ:GOOG) ascended above $900 on Wednesday for the first time ever, raising the technology behemoth's market value beyond the $300 billion threshold.
The rally comes as Google holds its annual developer conference and launched a paid subscription music-streaming service, the latest push by the company beyond its core roots in search into everything from phones and maps to wearable electronics.
Google continues to outperform the broader markets in what has been a very bullish year for stocks.
By crossing over the $900 level for the first time on record, Google has now rallied 28.5% in 2013, compared with a 14.94% advance by the Nasdaq Composite and a 16.14% gain for the S&P 500.
Rival Apple (NASDAQ:AAPL), which had enjoyed tech darling status until last fall, is off almost 19% this year, while Facebook (NASDAQ:FB) is up just 1% in 2013.
Google was recently trading up 2.18% at $906.41 and hit an intraday high of $911.76.
Google is now in exclusive company, joining just Warren Buffett's Berkshire Hathaway (NYSE:BRK.A), conglomerate Seaboard (NYSE:SEB) and home builder NVR (NYSE:NVR) as the only other U.S. companies trading above $900, according to Dow Jones.
At more than $304 billion, Google's market capitalization is also the third-highest among American companies, Dow Jones said.
Since its enormously-successful initial public offering in August 2004 at just $85.00, Google's stock has exploded an incredible 970%.
While Wall Street remains largely bullish on Google, the company's stock has now crossed over the consensus 12-month price target of $906.52 set by analysts polled by Thomson Reuters.
At its Google I/O annual software developer conference on Wednesday, Google unveiled a streaming music service that allows users to access unlimited songs. The service beats Apple to the punch and poses a risk to more established players in this space like Spotify and Pandora Media (NYSE:P).
Google also announced it has achieved 900 million activations of Android devices.
Last month Google reported a mixed first-quarter report that included a 31% jump in consolidated revenue to $13.97 billion and a 20% rise in paid clicks.