News Corp, Apple Unveil 'The Daily' for iPad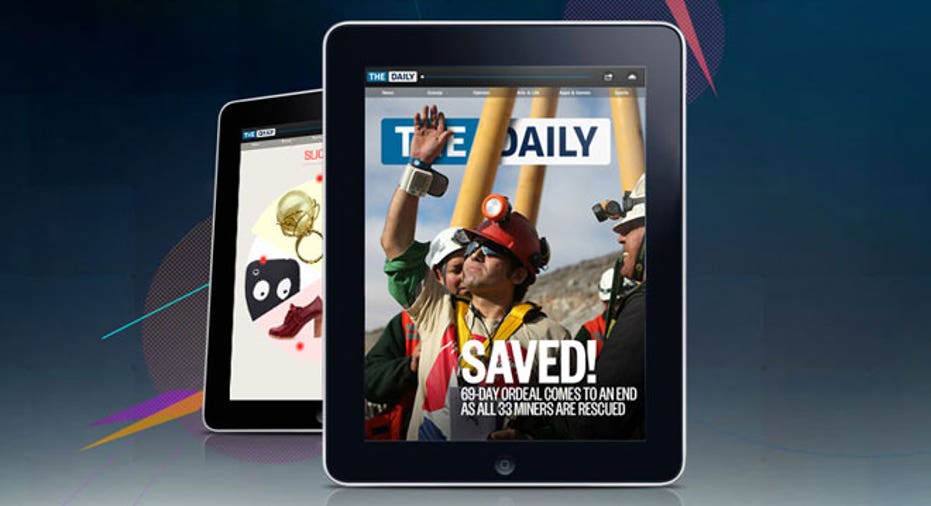 News Corporation (NYSE:NWSA) and Apple (NASDAQ:AAPL) on Wednesday unveiled The Daily, a highly-anticipated daily digital news publication for the iPad, at an event headlined by News Corp Chairman Rupert Murdoch and Apple Vice President of Internet Services Eddy Cue.
The publication will be available for download in the App Store beginning at 12 p.m. ET.
Priced at 99 cents a week, or $39.99 a year, in the U.S., News Corp said each issue will include over 100 pages of original news content, including sports, lifestyle, entertainment, technology and opinion every day.
"The Daily gives readers everywhere the engaging experience of a magazine combined with the need-to-know content of a newspaper and the immediacy of the Internet," said News Corp. in a press release.
According to Murdoch, The Daily can be offered for a low price because of the lower overhead costs of the digital publication, compared to a traditional print paper.
News Corp Chief Digital Officer John Miller called the publication "the first all-media product... the first product that every day uses all types of media to inform and entertain."
Some features of The Daily that cannot be provided by a traditional newspaper include high-definition original video content, the ability to have certain articles read aloud, a video anchor, interactive charts and 360-degree photos and, of course, the ability to share content on social networks like twitter and Facebook.
Users can navigate through the content using what The Daily calls the carousel, which Editor-in-Chief Jesse Angelo showed off at the event. The experience is similar to the iPhone's cover flow view of music on their devices. Of course, users can also just swipe through pages as they would with any newspaper or magazine.
Asked what he expected the revenue split to be for the paper, News Corp's John Miller said he anticipated that the bulk would come from the subscription base initially, rather than advertisers.
Not everything you can do on the iPad can be replicated on the Web, Angelo pointed out, so to get the full experience of The Daily, users will need to subscribe, but a good portion of text content will be available on the Web.
Later in an interview with FOX Business Network's Neil Cavuto, Murdoch revealed that Apple will receive a 30-cent cut of the weekly subscription price.
In terms of the editorial pages, Murdoch told Cavuto, "it will be a very patriotic, American newspaper that believes in free thinking, free markets, and freedom for everybody."
Users can download The Daily on a trial basis for two weeks before they choose to subscribe.
At first, the publication will be exclusive to the iPad and in the U.S., but in coming months it will be offered on other tablets and markets outside of the U.S.
News Corporation is the parent company of the FOX Business Network.