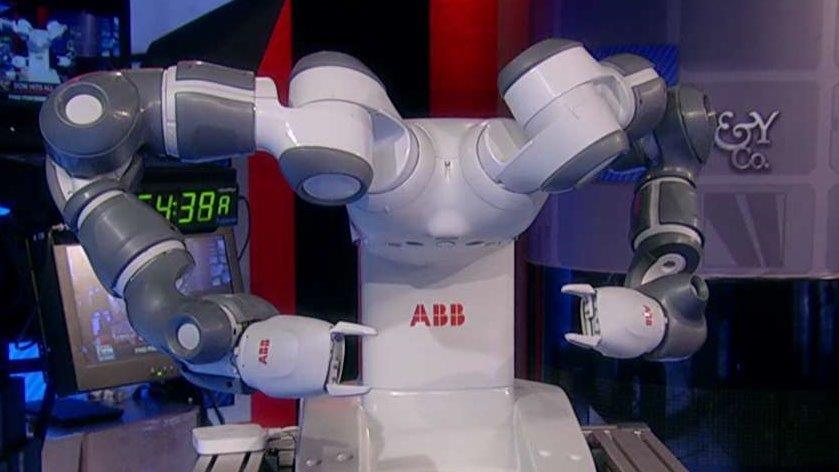 The YuMi robot from ABB offers manufacturers support to increase production efficiency, and may even replace human jobs, according to ROBO Global President William Studebaker.
"This is used instrumentally in everything from small parts assembly, it's used in a lot of different variations of manufacturing, it's being used in food, production, it's really being kind of moved out to all parts of manufacturing," Studebaker told FOX Business' Stuart Varney.
"ROBO Global … created the first ever index that tracks [the global robotics and automation market], ABB happens to be one of [those] companies," said Studebaker.
Studebaker said the robot will likely take "some jobs away," and offer flexibility to manufacturers.
"You can take the robot and change the manipulation that it wants-what you want it to do versus having to do the manual recoding, so think about the flexibility that offers manufacturers," he said.
According to Studebaker, each Yumi robot costs "roughly $50,000" and is capable of working 24 hours a day, seven days a week for the entire year with "no healthcare [and] overtime." ABB does not disclose actual pricing, as the company says it can be "variable depending on the application."
"It brings a lot more efficiency to production. These are a lot of technical skills that this robot does that people can't do," he said.
Correction: An earlier version of this story incorrectly said that ROBO Global made the YuMi robot. In fact, ABB makes the YuMi robot, while ROBO Global offers indices that track the global robotics and automation market.