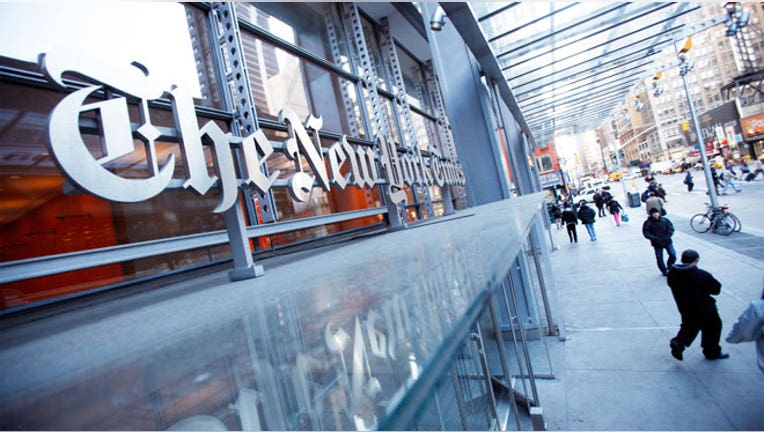 The New York Times Co. (NYSE:NYT) revealed surging fourth-quarter profits on Thursday due to asset-sale gains and digital revenue growth.
Shares of the owner of the namesake paper and the Boston Globe surged 8% on the stronger-than-expected results.
The New York Times said it earned $176.9 million, or $1.14 a share, last quarter, compared with a profit of $58.9 million, or 39 cents a share, a year earlier.
Excluding one-time items, it earned 32 cents a share, down from 39 cents a year earlier but a penny better than analysts had anticipated.
Revenue jumped 5.2% to $575.8 million, topping the Street's view of $570 million. Print ad sales slumped another 5.6% as overall ad revenue dropped 3.1%.
"We saw continued strong growth in digital subscriptions as well as increased revenue from our large print circulation base," CEO Mark Thompson said in a statement. "For the first time in our history, annual circulation revenues surpassed those from advertising."
Digital ad sales jumped 5.1% to $69 million, accounting for 24.7% of total revenue, up from 22.7% a year earlier. Circulation revenue soared 16.1%.
The company reported a total of 668,000 paid digital subscriptions as of the end of the fourth quarter, up 13% from the end of the third quarter.
"The demonstrated willingness of users here and around the world to pay for the high quality journalism for which The New York Times and the company's other titles are renowned will be a key building block in the strategy for growth," said Thompson.
The company's fourth-quarter results were boosted by a gain of about 66 cents per share tied to the sale of its interest in job search engine Indeed.com. There were also charges of 19 cents a share related to a legal settlement and pension items.
Looking ahead, The New York Times said it expects total advertising trends in the first quarter to be similar to those experienced in the fourth quarter, while total circulation sales are projected to increase in the mid-single digits.
Shares of the New York-based rallied around the results, jumping 8.01% to $8.90 Thursday morning. The rally leaves The New York Times up 3% on the year and 17.5% over the past 12 months.