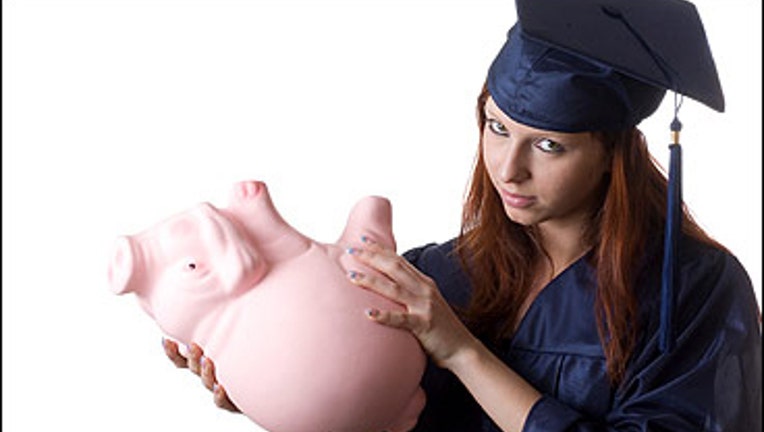 Some recent grads might have let out a sigh of relief when President Obama announced his proposal to accelerate existing plans to relieve some of their student loan burden, including a new version of the IBR plan.
But experts caution that not all grads will be eligible for the new programs.
The Income-Based Repayment (IBR) plan was designed to cap a borrower's monthly student loan payments at a percentage of the discretionary borrower's income, based on the borrower's income and family size rather than the total amount of their loan. The monthly payment is adjusted each year as the borrower's income and family size changes.
"Basically, the new IBR plan is more generous for those who qualify," says Haley Chitty, director of communications for the National Association of Student Financial Aid Administrators. "Under the new program, eligible borrowers will have their monthly student loan payments limited to 10% of their discretionary income, down from 15% under the current program. Those who make on-time payments for 20 years will have the remainder of their loan forgiven, down from 25 years under the current program."
IBR is based on a sliding scale that determines how much borrowers can afford to pay on their loans. Grads with an income below 150% of the poverty level, will have a $0 monthly payment. The payments for people who earn more will be capped at 10%.
The IBR repayment plan is only for borrowers who are concerned they will not be able to make their standard or extended payments, according to Jim Briggs, co-founder of ReducingCollegeCosts.com.
Anyone who is questioning their ability to make their monthly payments should check out an IBR calculator to determine their repayment amounts and whether they would qualify for the program.
Who is Eligible
It's important for graduates to know that while income-based repayment is available to all eligible student loan borrowers, the proposed changes to the IBR plan are only applicable to current borrowers, says student loan expert Heather Jarvis.
"[The changes] are only going to apply to people who borrowed their first federal student loans in 2008 or later and if you are also borrowing federal student loans in 2012," she says. "For people who started borrowing before 2008 are not going to qualify, but people who took their first loan in 2008 and took another loan in 2012 will qualify."
Chitty explains that there are three primary factors that dictate if the borrower will be eligible to pay off their monthly payments under IBR: the size of the loan, the borrower's income, and the size of their family (ie: if they are married and how many dependents they have).
Borrowers must also qualify for a Partial Financial Hardship, which happens when the annual amount due on all of a borrower's eligible loans (calculated under a standard 10- year plan) exceeds 15% of discretionary income.
"Borrowers have to submit information every year that documents income and family size," says Chitty. "If you do not provide the documentation, your monthly payment amount will be the amount you would be required to pay under a 10-year standard repayment plan, based on the amount you owed when you began repaying under IBR."
How to Apply
Graduates will need to contact their lenders directly to apply for IBR. If a student has multiple loans from different lenders, "they will need to notify ALL lenders of their decision so that the correct monthly payments for each loan may be calculated," says Briggs.
Lenders can supply the application forms for IBR; if students have loans under the Direct Loan program, they can find more information here. To find more information on other loan providers, check out the National Student Loan Data System.
In addition to the individual lender's forms, borrowers will need to prove their income to each of their lenders. Although each loan servicer has its own documentation process, Chitty explains that a signed copy of a full federal tax return, certification of family size, student loan information that shows IBR eligibility are needed to apply for the program.
After a borrower's eligibility is confirmed, the initial standard payment is calculated using a 10 year amortization for each loan, says Briggs.
"The actual payment will vary based on the amount of the loan and the interest rate," he says. "The Department of Education has a payment calculator found here."
What Student Need to Know
Experts suggest that students with loans from different lenders consider consolidating their federal loans (as we know, private student loans cannot be consolidated with federal loans and IBR does not apply to private loans).
"Before consolidating, borrowers should be aware of how consolidation may impact the terms, conditions and benefits of their current loans so they can make an informed decision," says Chitty.
If a student starts making more money than when he initially applied for the program, his  monthly payments will get adjusted accordingly or he may become ineligible for IBR.
"If their income goes up and down, then their payments will go up and down as well, so they won't be able to accurately forecast how much of that interest, if any, they're kicking along ahead of them, waiting to be paid off someday," says Briggs.
Chitty says that borrowers should understand that the IBR program is designed to help borrowers who are at risk of defaulting, and it isn't necessarily the best option for all borrowers who could end up paying more interest over the life of their loan if it isn't forgiven.
"Before using this program, borrowers should know how much more interest they might end up paying and how much the total cost of their loan could increase," he says. "Students need to know that interest will continue to accrue on their loans while they are in IBR and have to maintain a low-income for 20 years to have their loans forgiven, so this isn't necessarily a panacea."
Although the proposed changes to the IBR plan will help many borrowers get monthly payments that they can handle financially, Jarvis recommends that borrowers who can afford to pay their debt down more quickly should definitely do so.
"When you borrow money, the longer you take to pay it back, the more money you pay--that's how interest works," she says. "Income based repayment is very useful, but borrowers should be aware that if they can afford to pay more, they may well want to do that."