New Firearms Lift Sturm Ruger 3Q Sales to 45% Gain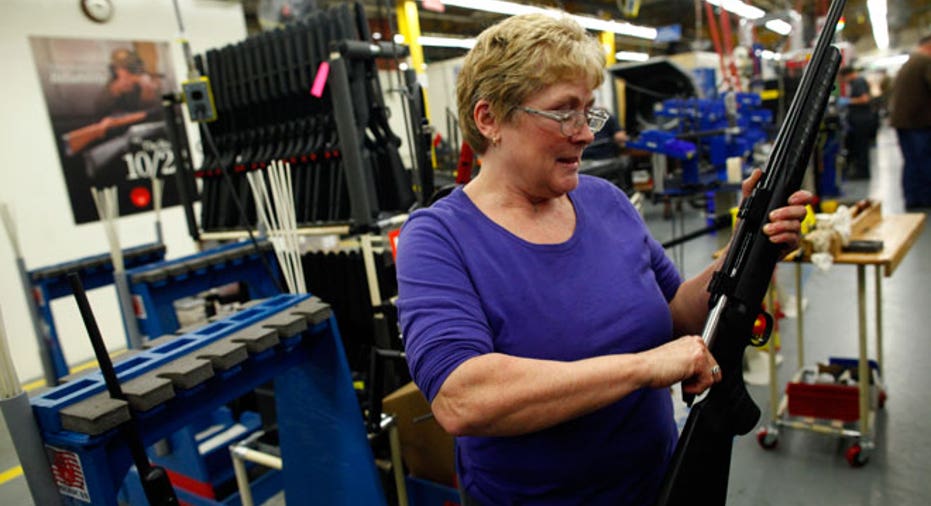 Sturm, Ruger & Co. (NYSE:RGR) recorded a 45% surge in third-quarter sales amid robust demand for new firearms, lifting the gun maker's profit.
Shares rallied 2% to $72.49 Wednesday afternoon after stumbling in earlier trading. Through Tuesday's close, the stock was up 13% since Oct. 31.
After Tuesday's close, Ruger reported a third-quarter profit that climbed 66% to $28.7 million, up from $17.3 million in the same period last year. Per-share earnings checked in at $1.44 versus 88 cents. Wall Street expected third-quarter earnings of just $1.21.
Revenue of $170.9 million topped expectations for $154 million.
The Southport, Conn.-based company said new firearms, such as the LC380 and SR45 pistols and Ruger American Rimfire rifle, continued to drive sales in the latest period. New products accounted for 32% of total firearm sales in the first nine months of the year.
Ruger also noted its sales are outpacing industry-wide demand. Through the end of the third quarter, adjusted background checks from the National Instant Criminal Background Check System were up 22%, while Ruger's sales improved 26%. The company saw a 31% jump in firearm sales during the latest period.
Gun sales have been on a tear over the last year or so, particularly after some lawmakers in Washington called for additional federal regulations. Meanwhile, states like Connecticut, New York and Maryland passed legislation to ban certain firearms and cap magazine capacities.
Third-quarter sales at Ruger defied warnings from analysts that sales growth would likely cool off.
On a conference call Wednesday, CEO Michael Fifer indicated it's unclear if Ruger will have another strong year or a repeat of 2009 to 2010, when sales leveled off after spiking in the wake of President Barack Obama's election.
Last month, shares of Ruger and Smith & Wesson (NASDAQ:SWHC) tumbled on the day Cabela's (NYSE:CAB) posted a slight third-quarter miss. The outdoor and hunting retailer's said its same-store sales were higher when excluding firearms, reversing a trend in recent periods "as sales of firearms significantly moderated during the quarter."
The surge in demand prompted Ruger to launch its first major expansion in 25 years. The firearm manufacturer recently unveiled plans to open a new facility in North Carolina, and production there is expected to begin in the first quarter of 2014.
Ruger's board approved a dividend of 58 cents a share for the third quarter, payable on Nov. 29 to shareholders of record on Nov. 15.