New ACL Procedure A Game Changer For NFL?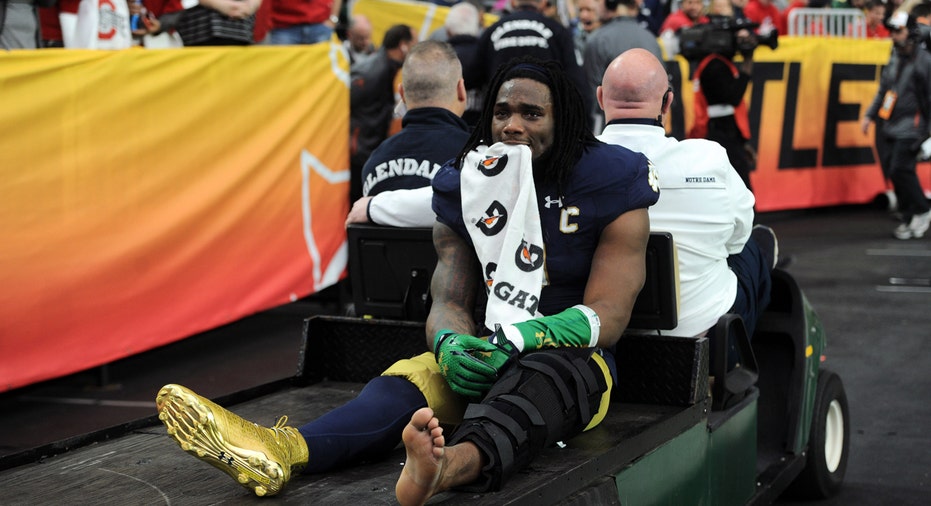 Devastating knee ligament tears that have sidelined the likes of football stars Tom Brady, Von Miller and countless other professional athletes may soon be significantly easier to repair, thanks to an experimental surgery that has already gained federal clearance for a second clinical trial.
Approximately 70 NFL players are diagnosed each year with a torn anterior cruciate ligament (ACL) – severe injuries that require surgical reconstruction to repair and months of rehab to regain full strength. But Dr. Martha Murray of Boston Children's Hospital has spent most of the last two decades developing Bridge-Enhanced ACL Repair, or BEAR – an experimental, minimally invasive procedure that early evidence suggests can reduce recovery time and lessen the long-term risk of developing painful arthritis in the knee.
Traditionally, orthopedic surgeons use a tendon graft to reconnect a damaged ACL – an invasive method that also weakens the muscle group from which the tendon was taken. The BEAR surgery, developed in conjunction with Harvard Medical School and the NFL players union-funded Football Players Health Study, uses stitches to repair the ACL and a surgical sponge to bridge the gap in the torn ligament, which can then use the body's healing processes to naturally regenerate.
"The ACL has a really productive response to injury, in that it does all the right things biologically," Dr. Murray told FOXBusiness.com. "It makes new cells, it really tries to heal itself, but it can never bridge the gap between the two torn ends of the ligament.
ACL injuries aren't just a problem for pro athletes. They're also prevalent throughout the general American population, especially for the physically active. Estimates vary, but anywhere from 250,000 to 400,000 people suffer ACL injuries annually, at a healthcare cost in excess of $2 billion. The cost of an individual procedure fluctuates wildly based on surgeon, facility and whether the patient has insurance.
Murray's quest to develop a new kind of treatment began when she, as a graduate student in an engineering program, spoke to a friend who had recently torn his ACL. She was stunned to learn that ACL tears required a tendon graft and six months of grueling rehab, with no guarantee of a return to full strength.
"I was like, that's crazy. Why can't the thing just heal? Everything else in our body tends to heal. Why does the ACL, even if you sew it back together, why doesn't it heal? I just got very interested in the issue," Murray said.
She enrolled in medical school and began to study the ACL's healing processes. In 2000, she discovered that the problem lay in the fact that fluid in the knee joint dissolved blood from the ligament's torn ends before they could form a clot and naturally bind together.
Murray spent the next 16 years developing a protein "sponge" that holds the patient's blood in place, allowing the ligament to heal. Early tests on animal models revealed BEAR subjects had a much lower incidence of knee arthritis compared to those who underwent traditional surgery.
In 2014, the NFLPA, which had been tracking Murray's progress since the early animal trials, agreed to fund her work as part of a research partnership with Harvard Medical School. Known as the "Football Players Health Study," the Harvard researchers are tasked with finding solutions for common injuries and health issues among NFL players, such as concussions and chronic joint pain.
Murray's work with BEAR is considered one of three "high reward" pilot studies, according to Sean Sansiveri, the NFLPA's vice president of business and legal affairs. Sansiveri declined to say how much grant money was being funneled toward Murray's work, but acknowledged that union officials are "beyond encouraged" by its early results.
"I don't think the application is limited to the NFL," Sansiveri told FOXBusiness.com. "I think it has a much broader application amongst other athletes and everyday civilians and the military and beyond. A lot of that would be Martha's plans and Martha's decisions, but we would certainly support her in that effort."
Murray and her team are actively tracking the results of BEAR's first human trial, which consisted of 10 patients who underwent the new procedure and 10 who underwent traditional ACL reconstruction surgery. As of this week, all trial patients are at least six months removed from surgery, while about half are a year removed.
So far, BEAR patients are back to full strength after about six months, compared to nine to 12 months for a traditional procedure. It's too soon to say if human patients will show the same reduced incident of knee arthritis as the animal models, but researchers are optimistic.
Based on data gathered at the three- and six-month stages of the first BEAR trial, Murray has already received permission from the Federal Drug Administration to pursue a second, larger study of 100 patients. The trial began on May 1.
Even if all goes well with the new trial, it will likely be several years before BEAR can become a mass-market solution to knee ligament injuries. The FDA will need to see months of positive data from the second trial before it can grant permission for widespread use in hospitals.
"It's not just for the NFL, but in all sports, women's soccer players, all the people that are getting these tears," Murray said. "They're just devastating on every level. If we can make the treatment and the recovery a little bit easier for people, we'd really like to do that."