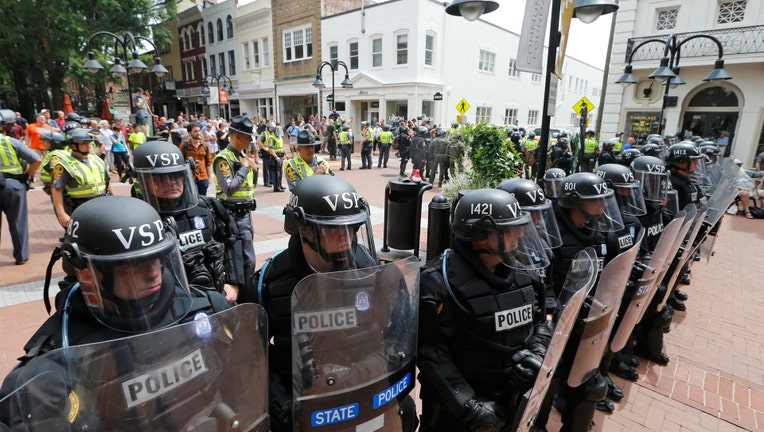 Neo-Nazi website the Daily Stormer moved its domain registration to Google after hosting firm GoDaddy said it would sever ties with the site that promoted Saturday's deadly rally in Charlottesville, Virginia.
A "whois" search of Internet domains on Monday listed Alphabet Inc's <GOOGL.O> Google as registrar for The Daily Stormer, a white supremacist website associated with the alt-right movement.
Representatives with Google could not immediately be reached for comment.
The Google domain registration site says that customers can transfer domains to the Internet giant through an automated, online process that can take 20 minutes.
GoDaddy Inc <GDDY.N> disclosed on Sunday via Twitter that it had given The Daily Stormer 24 hours to move its domain to another provider, saying it had violated the company's terms of service."
GoDaddy has previously come under sharp criticism for hosting The Daily Stormer and other sites that spread hate.
The company decided to boot the site on Sunday out of fear that it could be used to incite further violence after the events in Charlottesville, including the death of Heather Heyer, who was fatally struck by a car allegedly driven by a man with white nationalist views.
"With the violence that occurred over the weekend, the company believed this site could incite additional violence," said the person who was not authorized to publicly discuss the matter.
The internet hosting company's rules of conduct ban using its services in a manner that "promotes, encourages or engages in terrorism, violence against people, animals or property."
Meanwhile, Cloudflare, a private firm that also provides internet services to The Daily Stormer, declined to say if it was looking at severing ties.
"Cloudflare is aware of the concerns that have been raised over some sites that have used our network. We find the content on some of these sites repugnant," the company said in a statement.
"While our policy is to not comment on any user specifically, we are cooperating with law enforcement in any investigation," it added.
Daily Storm publisher Andrew Anglin could not be reached for comment.
(Reporting by Jim Finkle in Toronto; Additional reporting by Salvador Rodriguez and Chris Michaud; Editing by Michael Perry and Nick Zieminski)