Need to Change a Shift? Microsoft StaffHub Can Help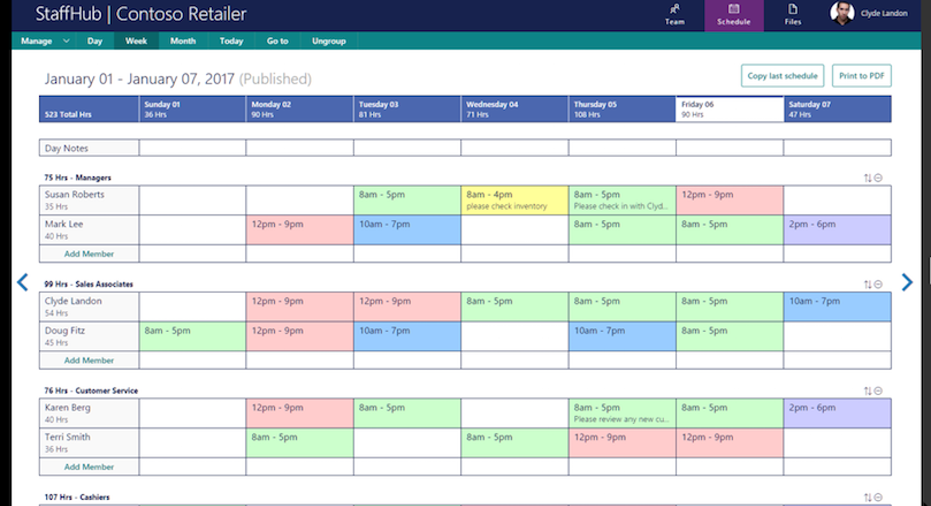 On a quest to replace neglected bulletin boards in office break rooms, Microsoft on Thursday introduced StaffHub, an Office 365 app that lets frontline employees view their shift schedules and receive updates from managers on their smartphones.
The new app is aimed at professions that require employees to be on their feet or out in the field for most of the work day—think baristas, hair stylists, waiters, and bus drivers, Microsoft says. Employees can download the separate StaffHub app for iOS and Android, and their managers can add the app to certain Office 365 subscriptions at no additional cost starting today.
The centerpiece of the app is a calendar, which managers can use to set schedules, and employees can use to see who they'll be working with on a given day. If they have a conflict, employees can use the calendar to swap shifts with a co-worker. Swap requests are sent to a manager for approval, and updates and notifications are automatically sent to the entire team.
In addition to the calendar, there's a separate area for posting documents like employee handbooks, and a messaging platform for quick communication between everyone on the team.
By adding new apps to Office, Microsoft is encouraging companies to centralize all of their workplace communication needs in one place. But Redmond also recognizes that large companies have several different vendors for different tasks, so it plans to let third-party tools have access to StaffHub. It's possible to build custom integrations with Microsoft PowerApps, or for a limited group of beta testers, to take advantage of a built-in integration with the Kronos human resources platform.
This article originally appeared on PCMag.com.