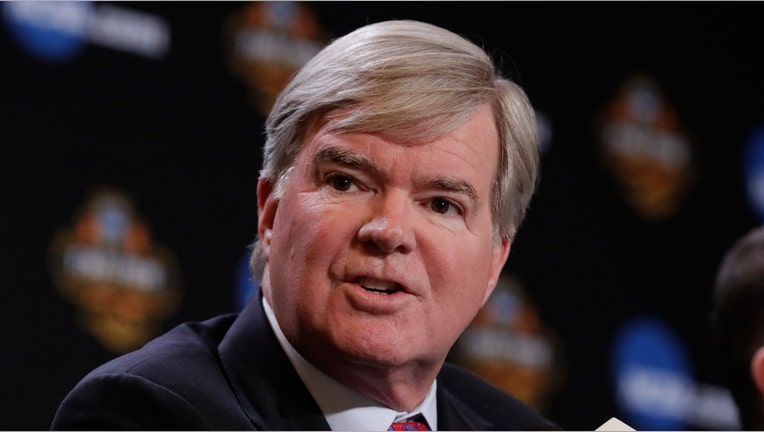 NCAA President Mark Emmert on Monday urged major changes to college basketball's internal practices before the 2018-19 season to restore public trust in the wake of an unprecedented bribery scandal that ensnared several of the sport's top figures.
Emmert's comments at a meeting of the Knight Commission on Intercollegiate Athletics were his most extensive since federal investigators in New York accused coaches, financial managers and an Adidas executive of using bribes to influence athletes' choices of schools, shoe sponsors and agents. The revelations detailed in court documents led to the firing of Louisville coach Rick Pitino and athletic director Tom Jurich.
The NCAA this month created a commission chaired by former Secretary of State Condoleezza Rice to study college basketball and recommend changes. The panel will begin its work next month and make recommendations by April.
"We cannot go to the next basketball season without seeing fundamental change in the way college basketball is operated," Emmert said. "The public doesn't have sufficient confidence in any of us in terms of our ability to resolve these issues."
Following Emmert's comments, Knight Commission co-chairs Arne Duncan and Carol Cartwright outlined what some of those reforms could be: regulations for nonscholastic youth basketball; greater enforcement powers for the NCAA, including possible subpoena powers; a limited antitrust exemption that would give the NCAA protection from lawsuits in exchange for some federal control; and allowing athletes to benefit from the use of their names, images and likenesses.
"The system in place today was designed for a bygone era," said Duncan, a former Harvard basketball player who served as education secretary in the Obama administration. "The legitimacy, the integrity and the relevancy of the NCAA is at stake."
A group of 10 individuals, including several assistant basketball coaches at top NCAA programs, were arrested by federal authorities last month on fraud and corruption charges. Prosecutors said the coaches solicited bribes in exchange for their help in steering top basketball recruits toward certain financial advisors and managers.
Separately, prosecutors allege that a top Adidas marketing executive conspired with financial consultants and advisors to funnel payments to the families of top recruits to push the players to sign with Adidas-sponsored schools. While no other sportswear executives have been implicated in the scandal, Pitino and Jurich were placed on leave and later fired after Louisville was named in federal documents related to one of the payments.
Basketball is critically important to the NCAA because it gets most of its annual revenue — roughly $800 million — from television rights fees for its men's basketball tournament. The college football playoffs, by contrast, are not run by the NCAA.
A failure to act, Emmert said, could lead to the end of the NCAA as a governing body and a move toward a "European model" under which football and basketball are entirely professionalized. That, he said, would have an undesirable ripple effect upon other college sports that are subsidized by football and basketball revenue.
Citing internal surveys, Emmert also said the NCAA's failure to punish North Carolina for academic violations was unpopular, although he declined to criticize the infractions committee that said it "could not conclude" the school committed academic violations.
"Only a very small portion of Americans believes that was the right decision," Emmert said. "That, too, eroded confidence in higher education holding itself accountable."
Duncan was more pointed in his comments about the North Carolina case, saying the NCAA was prevented by a "loophole" from punishing the school.
Both Duncan and Emmert said they were concerned about the prospect of more charges in the bribery investigation, which is being handled by prosecutors from the Southern District of New York.
"Whether it's the tip of the iceberg or whether it's the whole iceberg doesn't really matter," Emmert said. "It's disgusting as it is, and we've got to recognize that we own that."
The Associated Press contributed to this report.