NCAA football's top-selling tickets: Michigan, Alabama lead the way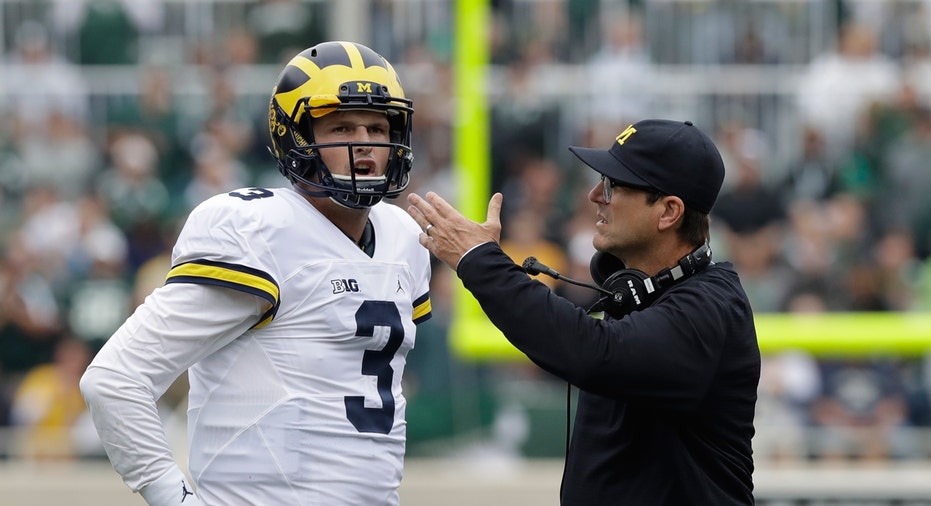 With the start of college football season less than one month away, Coach Jim Harbaugh's Michigan Wolverines are drawing more fan demand for tickets than any other NCAA team for the fourth straight season, according to data released Friday.
The Wolverines, who ranked No. 9 in the most recent preseason Amway Coaches Poll of the nation's top teams, have tallied more total ticket sales than any of their rivals, according to StubHub, a secondary market ticket aggregator. Michigan is also featured in three of the NCAA's top 10 best-selling games on StubHub.
"With Michigan leading the way in overall sales on StubHub, the [Big Ten conference] can claim four of the top 10 best-selling teams, helped by preseason expectations and dynamic coaches on the sidelines," StubHub spokesperson Cameron Papp told FOX Business.
Michigan kicks off its 2017 campaign in a Sept. 2 clash with the Florida Gators in the Advocare Classic. The Wolverines have finished with a 10-3 record in each of Harbaugh's two seasons in Ann Arbor.
The Notre Dame Fighting Irish are the nation's second most in-demand team in terms of preseason ticket sales. Coach Nick Saban's Alabama Crimson Tide ranked third, followed by two Big Ten schools -- the Penn State Nittany Lions and the Ohio State Buckeyes.
The Clemson Tigers, who defeated Alabama to win the 2017 College Football Playoff National Championship last January, ranked just 10th in terms of ticket sales, despite a No. 5 ranking in the Coaches Poll. However, Clemson has sold an increasing amount of tickets in each of the last four years, with demand jumping 62% this year compared to 2016.
Michigan may be dominating in terms of overall demand, but they aren't playing in the hottest-selling game of the college football season. That honor belongs to Alabama and the Florida State Seminoles, whose opening weekend clash in the Chick-Fil-A kickoff on Sept. 2 is outselling the next-closest game by 34%.
The SEC has been a college football powerhouse for the last decade, with conference teams like Alabama and Auburn winning seven of the last 10 national championships. However, the Big Ten is outselling the SEC by 11% this preseason, marking the fourth straight year that it has led the way in terms of demand.
"The arrival of NCAA's playoff and coaches such as John Harbaugh at Michigan and Urban Meyer at Ohio State have given the conference a big boost in the national rankings and preseason ticket demand," Papp said.