NCAA Final Four Welcomes Trio of 1st-Time Coaches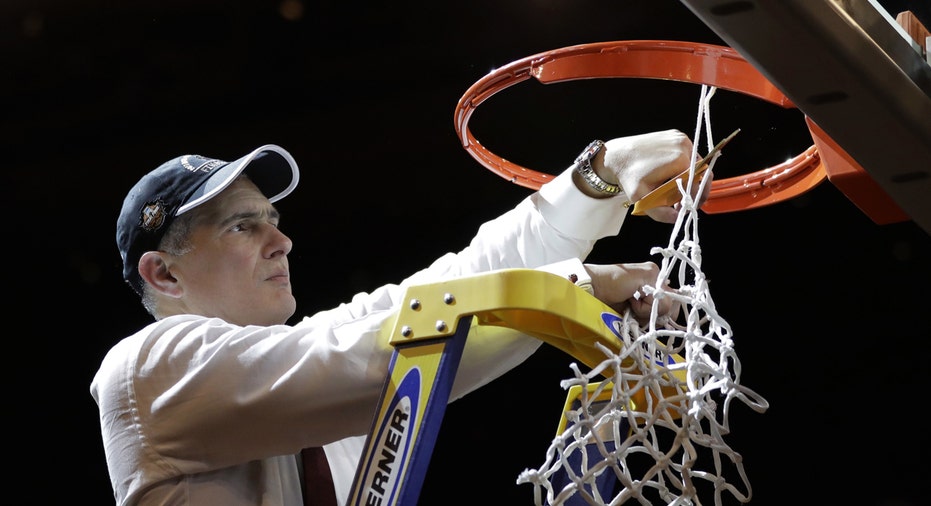 Frank Martin never got caught up in wins and losses, the highs and the lows, as he worked to build South Carolina into a contender for conference championships.
Gonzaga's Mark Few dismissed questions of whether his Bulldogs would be a failure as long as they failed to get to a Final Four after so many great regular seasons. And Oregon's Dana Altman focused on turning one deep NCAA Tournament run into something more.
Whatever their differences in personality, playing style and approach, that trio now shares something in common after all that work: each is headed to his first Final Four. It's the first time since 2006 that the Final Four will feature three first-time coaches there.
"Anyone that's in sports dreams of moments like this," Martin said after Sunday's win against Florida in the NCAA Tournament's East Region final. "It's not something that you start dreaming it the year you win 25 games. You dream it every single day."
South Carolina and North Carolina both won regional finals Sunday, sending them to Phoenix along with Gonzaga and Oregon after their wins a day earlier.
This is nothing new for the Tar Heels and Hall of Fame coach Roy Williams, who is in his fifth Final Four with UNC and ninth overall dating to his time with Kansas. For everyone else, this is a breakthrough moment.
Gonzaga (36-1), the West's No. 1 seed, had been to five Sweet 16s and one Elite Eight under Few before this season. This time, the Zags eked past Northwestern and West Virginia before routing Xavier in the regional final.
"I've been there 28 years. My first year on staff we won four Division I games," Few said Saturday of his time as an assistant. "And I mean this wasn't even possible. And each year we got better and better, and then we got really, really good. ... And our culture is just so strong. And this was a culture win and a culture statement and (I) couldn't be prouder."
Oregon (33-5), the No. 3 seed in the Midwest, secured the program's first trip to the national semifinals since the 1939 "Tall Firs" won the first NCAA Tournament. Altman, in his seventh year, led the Ducks to last year's Elite Eight before falling to Oklahoma but came back to beat top-seeded Kansas in Kansas City, Missouri, to secure the program's first Final Four since that '39 title.
Then there's Martin, whose seventh-seeded Gamecocks (26-10) upset East No. 2 Duke — the preseason No. 1-ranked team — and No. 3 seed Baylor before Sunday's win against Florida in New York. Martin had coached in a regional final at Kansas State in 2010.
And with Gonzaga facing South Carolina in the first semifinal, at least one of the newcomers will coach for a national championship on the final night of the season.
Here are things to know after the regional rounds and entering the Final Four:
THE SCHEDULE: Gonzaga and South Carolina will be Saturday's first semifinal, tipping off at 6:09 p.m. EDT. Oregon and UNC will tip off roughly 40 minutes after the conclusion of that game.
RECORD HAUL: UNC, the South Region's No. 1 seed, earned a record 20th Final Four berth on Luke Maye's last-second shot to beat Kentucky 75-73 in Memphis, Tennessee. That also sent UNC (31-7) back to the national semifinals a year after losing to Villanova on a last-second 3-pointer in the title game — which formed the basis of a season-long rallying cry to get back and try again.
UNFAMILIAR FOES: The semifinalists haven't met often. Gonzaga and South Carolina have never played. Meanwhile, UNC and Oregon have played four times, with the Tar Heels winning all four — the last coming in the 2008 Maui Invitational.
CONFERENCE BREAKDOWN: The Southeastern Conference fell short in its bid for multiple Final Four teams after getting three to the Elite Eight. Now four conferences each have one team: the SEC (South Carolina), the West Coast (Gonzaga), the Pac-12 (Oregon) and the Atlantic Coast (North Carolina).
The SEC has the most wins of any league (11-4) in this year's field of 68, followed closely by the Pac-12 (10-3).