NCAA Final Four Security Concerns Arise After Brussels Attacks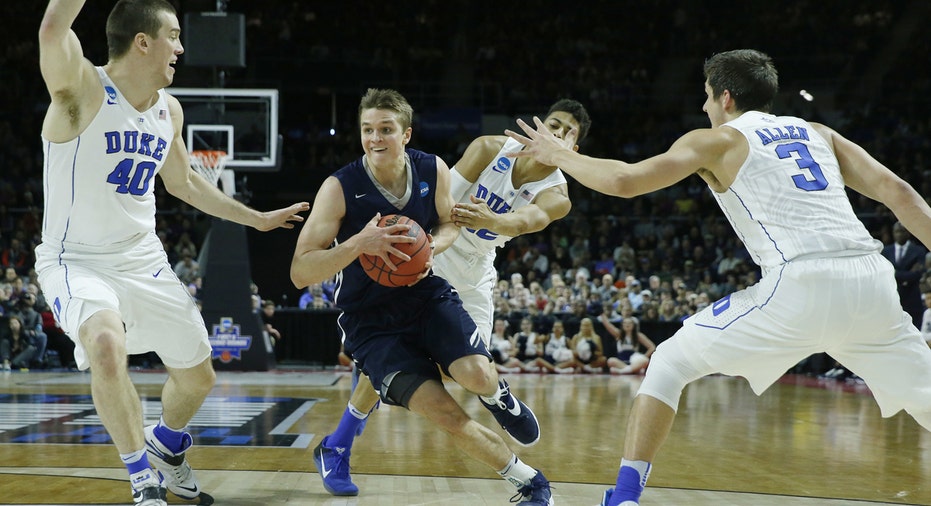 Authorities reiterated Tuesday that proper security measures are in place to protect college basketball fans preparing to attend next month's NCAA Final Four championship event in Houston, Texas, hours after a series of terrorist bombings killed at least 31 people and wounded dozens more in Brussels, Belgium.
More than 100,000 people are expected to attend the NCAA Final Four at Houston's NRG Stadium, which begins on April 2 with a pair of semifinals matchups and concludes on April 4 with the men's college basketball national championship. Last year's Final Four event at Lucas Oil Stadium in Indianapolis drew more than 143,000 fans. Security at crowded public venues is a major concern after deadly attacks in Brussels, Paris and San Bernardino, California.
"Safety and security of our players, teams and fans is a top priority," an NCAA spokesman said in a statement to FOXBusiness.com. "We are aware of the situation in Brussels, and as with any incident, we coordinate with local, state and federal agencies as necessary."
Terrorists detonated at least two bombs at the Brussels airport and a third bomb at a Brussels metro station located near the European Union's headquarters, the Associated Press reported. Belgian authorities locked down the city of Brussels, shut down public transportation systems and diverted incoming flights. The Islamic State group claimed responsibility for the bombings.
World leaders, including President Barack Obama and French President Francois Hollande swiftly condemned the attacks and pledged aid to the Belgian government.  In the U.S. market, travel stocks plunged in reaction to the news.
As one of the United States' premier sporting events, the NCAA basketball tournament routinely draws a significant security presence on both the state and federal level. Officials in Houston stressed that the resources necessary to protecting basketball fans are already in place.
"The Federal Bureau of Investigation is closely monitoring the situation in Brussels and remains in contact with our counterparts in the region," the FBI's Houston Division said in a statement. "There is no specific or credible information to indicate a threat to the Houston area at this time.  Regarding the NCAA tournament, we continue to work closely with the Houston Police Department and are coordinating with all our state, local and federal partners to ensure the safety of all upcoming events within Houston territory."
The Houston Police Department coordinates with federal and state officials to analyze potential security risks. A HPD spokesperson said local police are "prepared for" this sort of threat. However, police are urging citizens to contact authorities if they notice any suspicious activity in public areas.
"We do have plans in place to ensure that the NCAA [Tournament] is a peaceful event and everyone is able to enjoy the festivities," HPD Public Information Officer Jodi Silva told FOXBusiness.com "We are aware of the incident in Brussels, and while there's no connection to the Houston area, we are going to continue to monitor and work closely with our state, federal and local officials."
An official at Dallas Fort-Worth Airport, a busy transportation hub located a few hours away from NRG Stadium, said its security staff is "closely monitoring" the situation in Brussels and that its officers "remain very vigilant."
"As a policy, we don't go into specifics about our security measures," said Cynthia Vega, a media relations manager at DFW Airport. "Our customers are following the same protocol as always when they come to the airport, but we're encouraging them to certainly get here early, give themselves ample time to get here and to get through security. No additional measures are in place for them to go through security."
A representative of the Houston Airport System, which includes George Bush Intercontinental Airport, said security preparations for the Final Four were underway before the Brussels attacks.
"Even before the unfortunate events of earlier today, the Houston Airport System worked closely with our local, state and federal partners to put in place plans to ensure those attending and participating in the NCAA Final Four in Houston have a safe and enjoyable experience," HAS Public Information Officer Bill Begley said. "We will monitor the impacts of today's events while we continue in our preparations."
The NCAA men's basketball tournament's "Sweet Sixteen" round begins on Thursday, March 24 at the KFC Yum! Center in Louisville, Kentucky and continues Friday, March, 25 at the Wells Fargo Center in Philadelphia, Pennsylvania.
Note: This story was updated at 3:28 p.m. ET with a statement from the Houston Airport System.