NBA's 76ers Are Training eSports Players Like Pro Athletes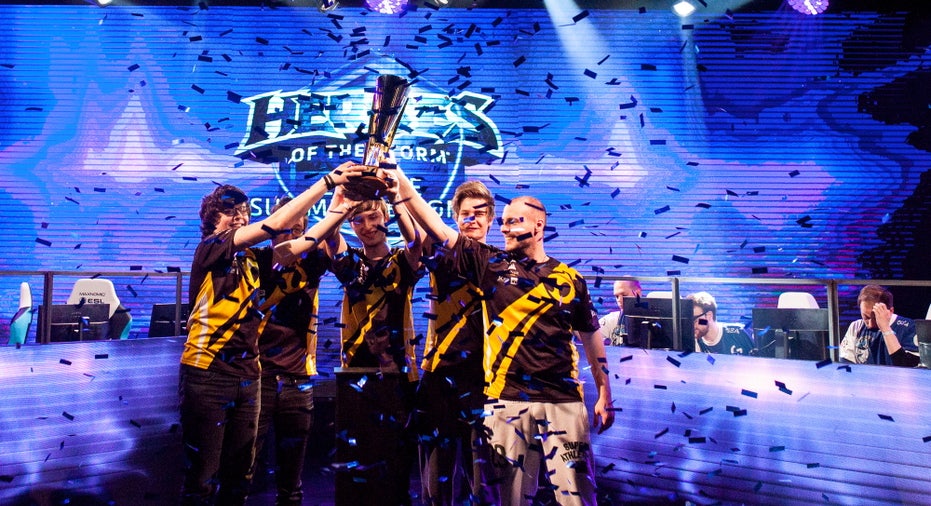 The NBA's Philadelphia 76ers are working to legitimize eSports gamers as professional athletes by training them as if they're about to step onto a basketball court.
The Sixers, who became the first U.S.-based sports franchise to invest in eSports through their acquisition of Team Dignitas and Team Apex last September, are providing doctors, sleep experts, nutritionists, sports psychologists and various other wellness-related resources for their stable of gamers.
The renewed focus on training is a crucial development for the eSports industry, which has seen massive growth in revenue and viewership in recent years, but has struggled to develop players with crossover appeal for mainstream consumers, like the NBA's LeBron James or the UFC's Ronda Rousey. By treating gamers more like professional athletes and less like hobbyists, industry insiders are aiming to tap into a new audience.
Team Dignitas, who honed their skills for years without access to proper coaching or specialized medical care, will have access to the same resources and facilities as Ben Simmons, Nerlens Noel and the rest of the Sixers' basketball team.
"In the past, we have not had access to anything like that," Michael "OD" O'Dell, president of Team Dignitas, told FOXBusiness.com. "Coaches have only really come in the last few years. Sports psychology and nutrition, that's only really starting to happen. This is a big reason for me for wanting to partner with the Sixers, having access to their ability and their knowledge in that respect is really important to me."
Collaborations with established sports franchises are on the rise in eSports. The industry's total revenue is projected to reach $493 million in 2016 and rise to $1.1 billion by 2019, according to market research firm Newzoo. The community's audience is expected to increase from 148 million to 215 million over the same period. Pro tournaments awarded more than $60 million in prizes last year alone.
As eSports grow in popularity, franchises have been forced to adapt to the challenges of an often grueling and physically demanding tournament schedule. "Player burnout" is a real problem for competitors, who regularly fly across continents and time zones without a break for their next event.
"The travel schedule these guys have is punishing, absolutely punishing. We need to start to talk to the teams," said Jonathan Kemp, the newly-appointed CEO of Team Dignitas. "This is a big part where the Sixers will be able to help us – just how we can build schedules for players which enable them to play properly and rest properly and just enable them to have a longer career and be more professional."
O'Dell, a former eSports competitor and a legend in the industry, said access to sleep experts and nutritionists will help keep players in shape, but sports psychologists will provide a major boost to their performance.
"There's this one particular team which is our kryptonite. Every time we play them, we should beat them, but we lose," O'Dell said. "So having a guy that can sit down and get that confidence back into our players or just get that confidence against teams like that, that's something we've never had the ability to do."
While the eSports community has earned a massive following through digital streaming services and attracted attention from both mainstream sponsors and news networks, efforts to further expand the industry's footprint on the sports landscape are underway. The International eSports Committee held a pop-up event at the 2016 Summer Olympics in Brazil, and the organization submitted paperwork for formal consideration as an Olympic sport in the future.
While teams like Dignitas and Echo Fox have developed passionate fan bases, the industry as a whole is still learning how to market individual players to mainstream audiences. Jace Hall, CEO of eSports franchise Echo Fox, told FOXBusiness.com in August that the lack of crossover star power is one of the major hurdles the sport still faces.
"For 30 some-odd years, everything has been orientated toward the video games. Players were nothing more than consumers," Hall said. "It would be like the NFL owns football and its whole purpose of owning football is to sell actual footballs to the audience that attends football games. In a universe like that, it's hard for players and teams to develop."
Kemp, a longtime marketing executive with experience in both the sports world and the gaming industry, said the Sixers partnership will help Team Dignitas' efforts to expand as a business. Aside from sharing sales strategies, merchandizing expertise and marketing techniques, Sixers staffers will organize crossover events that will feature both Sixers basketball players and Dignitas gamers.
As for the development of gamers into individual brands, O'Dell argues that some players are already considered "rock stars" among eSports die-hards.
"It's just that now, in the last couple of years, we've only just been discovered by the mainstream," he said.