NBA Weighs in on Texas 'Bathroom Bill' Amid NFL, Governor Clash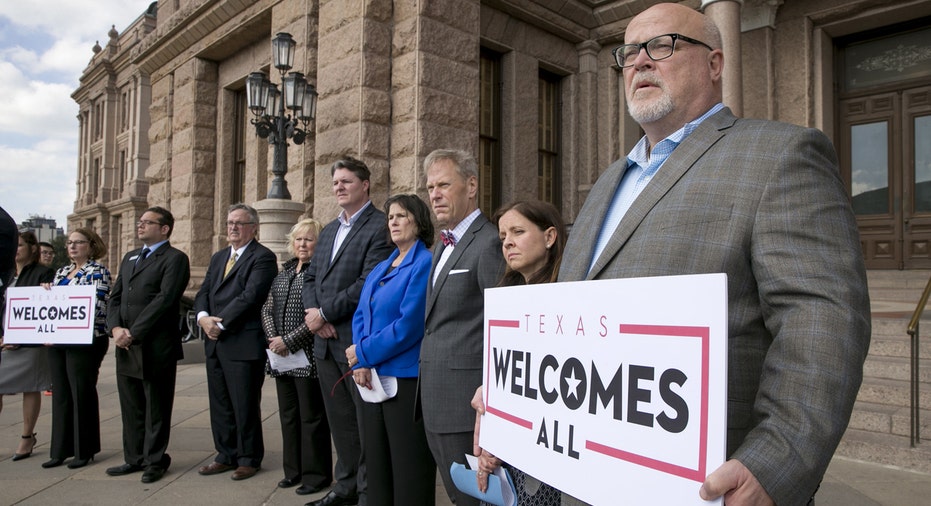 As Texas lawmakers mull a controversial transgender "bathroom bill" similar to North Carolina's law that outraged top sports leagues, the NBA said Thursday that making sure its fans are treated "fairly and equally" is a key factor in determining which states it chooses to host key events – including future NBA All-Star Games.
Entitled "Texas Senate Bill 6," the proposed measure would require transgender individuals to use public bathrooms in accordance with the gender listed on their birth certificates.
"We consider a wide range of factors when making decisions about host locations for league-wide events like the All-Star Game – foremost among them is ensuring the environment where those who participate and attend are treated fairly and equally," NBA spokesman Mike Bass said in a statement to FOX Business.
A similar bill in North Carolina, which was signed into law last March, led the NBA to relocate this weekend's All-Star Game from Charlotte, its planned host city, to New Orleans. The NCAA also moved several planned events in response to the North Carolina law.
NCAA officials declined FOX Business' request for comment on the Texas bathroom bill.
The NBA isn't the only professional sports league that has opposed so-called "bathroom bills." The NFL warned Texas last week that the law, if passed, would jeopardize the state's ability to host the Super Bowl and other league events. Houston hosted Super Bowl 51 earlier this month.
"The NFL embraces inclusiveness. […] If a proposal that is discriminatory or inconsistent with our values were to become law there, that would certainly be a factor considered when thinking about awarding future events," NFL spokesman Brian McCarthy said in a statement last week.
The NFL's comments drew a sharp rebuke from Texas Gov. Greg Abbott, who warned the league to "get the heck out of politics" on Tuesday during an appearance on conservative pundit Glenn Beck's radio show.
"We don't care what the NFL thinks and certainly what their political policies are because they are not a political arm of the state of Texas or the United States of America. They need to learn their place in the United States, which is to govern football, not politics," Abbott said.