NBA Looks to Mexico to Grow Its Global Empire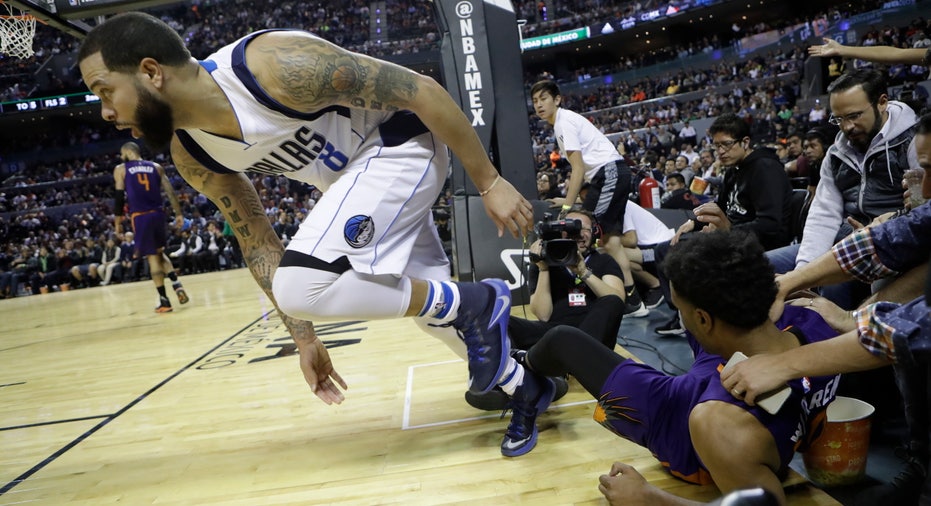 Dallas Mavericks star small forward Harrison Barnes was surprised by the packed house during a regular season game. He usually only sees this type of excitement and attendance during a finals game, he told FoxBusiness.com.
But this wasn't just any game. The team was playing 1,000 miles south of its home court, in Mexico City's Arena. It was all part of an effort to tap into a fast-growing market for the NBA, one the league believes has huge growth potential and could become an important money maker.
"I think it's great that the NBA has grown this much to be able to be here in Mexico City," Barnes said. "To see the excitement that's here, it's great to be a part of it."
The NBA hosted a game on Thursday in Mexico's Ciudad de Mexico arena and will have another one on Saturday. It's the fourth and fifth time the NBA has hosted a regular season game in Mexico. Three teams – the Mavericks, the Phoenix Suns and the San Antonio Spurs – are in Mexico City for the two games.
Mexico has become a major market ripe for expansion for the NBA. Raul Zarraga, the managing director of NBA Mexico, told FoxBusiness.com that TV viewership and online streaming are both growing south of the border.
"We are seeing increases," Zarraga said. "It's impressive how we are growing year after year."
Right now, there are half a million fans in Mexico who watch games streamed online. Across all platforms, 4 million viewers watched the NBA finals online in 2016, Zarraga said.
"We closed the last year with double digit increase in [streaming] subscriptions," Zarraga said. "We are 1 or 2 percent higher this season."
As the NBA moves beyond traditional channels such as cable and broadcast TV, the league is banking on Mexico to help it become a global empire. Home to 122 million residents, Mexico is Latin America's largest Spanish-speaking economy.
And many Mexicans – to the surprise of some – are avid basketball fans.
Although Mexico is more often associated with soccer, basketball has a long history in towns and cities in Mexico's Pacific Coast region. In many parts of the country, there are more basketball courts than soccer fields.
"Basketball is already the second-most watched sport in Mexico," Arnon de Mello, vice president and managing director of NBA Latin America, told USA Today. "It's growing tremendously. And there are more basketball courts in this country than any other sport."
To capitalize on this growing fan base, the league has also brought its online store to Mexico, where it sells jerseys, clothing, and team memorabilia.
"We call that NBA Tienda," Zarraga said. "We are growing [sales with] double-digit growth."
This week in Mexico, while his teammates gathered by the sideline, Deron Williams, the Mavericks starting point guard, told FoxBusiness.com that although he thinks it's great that the NBA is working to bring games to fans outside the U.S., it may be a challenge to take the next step of creating a new, international franchise.
"It would be tough, travel-wise, for teams," he said. "We came from Minnesota. All in all, it was about 10 hours [for us]. The NBA wants to be global, but it would be tough to have teams in different countries, logistically."
But Zarraga isn't deterred.
"I'm optimistic," he said. "There's a lot of room to grow."