NBA Figures Speak Out on Trump Travel Ban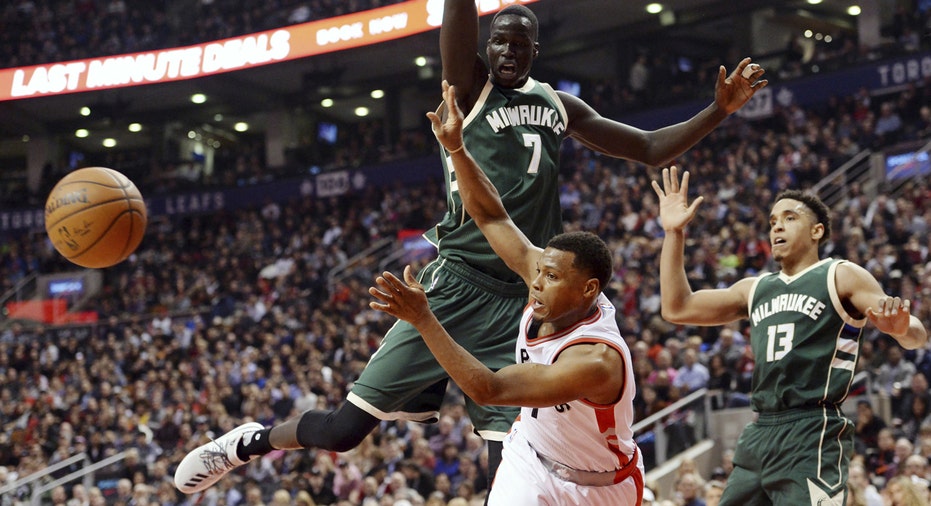 Two NBA players stand to be directly affected by President Trump's executive action to temporarily ban immigration from certain countries – and some prominent figures within the sports world are speaking out Monday against the policy.
Los Angeles Lakers forward Luol Deng and Milwaukee Bucks rookie Thon Maker are both natives of Sudan, one of seven countries, including Syria, Iraq, Iran, Libya, Somalia and Yemen, which are subject to a 90-day travel ban.
Trump's order drew criticism Monday from Steve Kerr, the former Chicago Bulls star and current head coach of the Golden State Warriors. Kerr's father, Malcolm, was killed in a 1984 terrorist attack while serving as president of the American University of Beirut.
"I think it's shocking. Horrible idea, and I feel for all the people who are affected, families are being torn apart. I worry in the big picture to what it means to the security of the world. It's going about it completely opposite. You [want to] solve terror, you [want to] solve crime, it's just not the way to do it," Kerr told reporters.
National Basketball Players Association officials are actively investigating the travel ban's potential implications for foreign-born players, a source familiar with the situation told FOX Business. NBPA Executive Director Michele Roberts spoke out about Maker's and Deng's potential predicament on Sunday.
"We are already on it. #PlayersFirst #NoHate," Roberts wrote on Twitter.
Maker also holds citizenship in Australia, while Deng is a naturalized citizen of the United Kingdom. Maker was in Canada over the weekend for the Bucks' game against the Toronto Raptors, which initially raised questions about his ability to cross the border and return to the U.S. Ultimately, the 19-year-old forward made the trip without incident, according to multiple reports.
NBA rosters had 113 internationally-born players form 41 countries as of October 2016. The league recruits from Sudan through its Basketball Without Borders program.
League officials contacted the Trump administration to assess how the new immigration policy stands to impact its players, a representative confirmed over the weekend.
"We have reached out to the State Department and are in the process of gathering information to understand how this executive order would apply to players in our league who are from one of the impacted countries. The NBA is a global league and we are proud to attract the very best players from around the world," NBA spokesman Mike Bass said in a statement.
The NBA is the American sports league that stands to be most directly affected by the immigration ban. The NFL's players are mostly American-born, while foreign-born members of the NHL and MLB do not hail from the affected countries.
Major League Soccer has two American-born players that represent countries subject to the ban – Steven Beitashour, who plays for the Iranian national team, and Justin Meram, who plays for the Iraq. But as American citizens, neither is expected to experience any difficulty with travel. MLS officials declined to comment on the immigration ban in general.
Representatives from Ultimate Fighting Championship, which also maintains a global presence, confirmed that UFC is "monitoring" the situation.
"We are aware of the federal travel ban. There are numerous variables including a judicial injunction. We are monitoring and will be affirmatively engaged to ensure that our athletes and employees are able to go where they need to compete and do their jobs," the mixed martial arts promotion said in a statement to FOX Business.