NBA All-Star Weekend 2016 Invades Toronto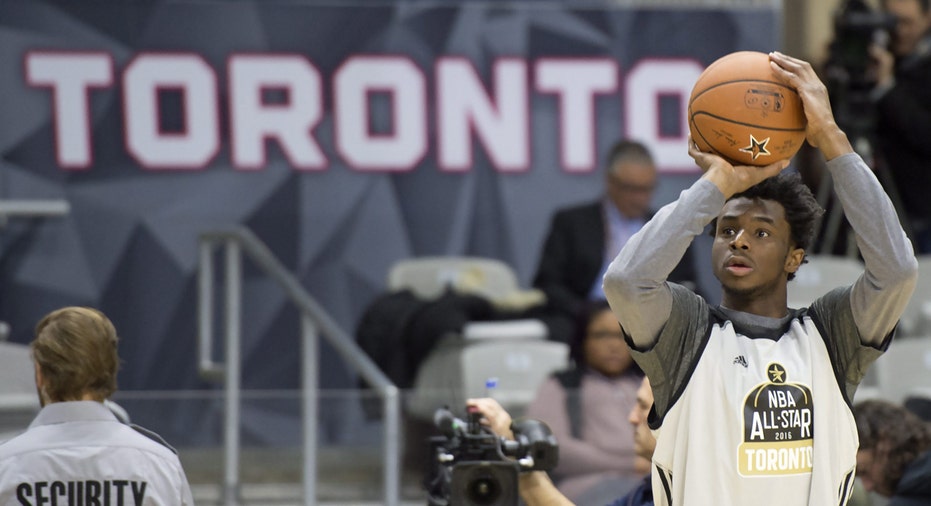 The National Basketball Association's global invasion is entering its next phase. This weekend's 2016 NBA All-Star Weekend festivities in Toronto will mark the first time the league has held its annual showcase event in a city located outside the United States – a crucial development for a league increasingly fixated on expanding its business overseas.
Like the National Football League and Major League Baseball, the NBA has been aggressive in efforts to reach new fans around the world. The league has used internationally-focused events to access untapped markets in China, Africa and several other countries. Global outreach helped drive league revenue to more than $5 billion in 2015, according to Forbes. By holding one of its flagship events outside of America's borders, the NBA is sending a clear signal that international expansion isn't just a gimmick – it's an ongoing marketing strategy.
Toronto was a natural choice to host the first-ever international NBA All-Star Game, given the league's strong presence in Canada. TV viewership of NBA games has doubled in Canada over the last three seasons. A total of 12 Canadian-born players were included on opening-night rosters this season, more than any other country in the world. And the once-woeful Toronto Raptors have become one of the league's most popular teams, thanks in part to rapper and Toronto native Drake, the franchise's "global ambassador."
"The time was right to take it to Toronto," Dan MacKenzie, NBA Canada's vice president and managing director, told FOXBusiness.com. "The [Toronto Raptors] had expressed interest. They're one of the top teams in the league in terms of organizational capacity. Toronto's just a fantastic city, it's an international city. If you were going to have the first international All-Star Game, it just made sense to have it in Toronto."
Planning for the 2016 NBA All-Star Weekend began more than three years ago, when Toronto beat out several other bidders for hosting rights. This year's events will generate anywhere from $80 million to $100 million for the city of Toronto, MacKenzie said, citing various estimates.
Aside from the logistical challenges of coordinating a major sporting event on the other side of an international border, league officials faced another dilemma – how to turn the All-Star Game from a few isolated events in one Canadian city into a national affair that would create new international fans and attract local sponsors to the NBA's product.
The NBA has enacted a three-fold strategy to build its brand north of the border: bring the courtside experience to uninitiated Canadians, increase basketball participation among the country's youth, and capitalize on social media to drive fan engagement. It's the same plan league officials have applied in other marketplaces, such as Europe and China.
Those efforts have already begun to pay off. The league's base of 19 million Twitter (NASDAQ:TWTR) followers includes more than 650,000 Canadians. Events such as the "NBA Canada Series," which consisted of four preseason games, and the "Bell NBA All-Star Challenge," which invited fans in 14 Canadian cities to participate in All-Star-themed events, have helped with fan engagement.
NBA Canada has gained six major sponsors in the last 18 months alone, including Air Miles and the Bank of Montreal (NYSE:BOM).
"They're not just extension of U.S. deals or global deals," MacKenzie said. "They're Canadian companies who are realizing that there's a groundswell of fan interest here."
But the business opportunities afforded by a successful All-Star Weekend aren't limited to new sponsors. A strong showcase of the NBA's best players and overall entertainment value on an international stage can attract the type of business leaders that drive a sports league's expansion. Interest from billionaires like former Microsoft (NASDAQ:MSFT) executive Steve Ballmer, who purchased the Los Angeles Clippers for $2 billion in 2014, can lift franchise values across the league.
"You want the wealthiest potential owners in the world interested in buying NBA teams. You've got some very wealthy billionaires in Canada, notably the people who own the Raptors," said Rick Burton, former commissioner of Australia's National Basketball League and a sports business expert at Syracuse University in New York. "You constantly want to know who's out there with billions of dollars. Who's the next Steve Ballmer? If he's in Canada, you want to know about him and you want to entertain him at the game."
If all goes well, the Toronto All-Star festivities may just be the beginning. Aside from exhibition contests in Africa, China and other foreign locations, the NBA has held several regular-season games at O2 Arena in London. The most recent game took place last month, when the Raptors traveled across the pond to face off against the Orlando Magic.
London is the logical choice for the NBA's next international All-Star Game, according to Burton.
"It's your jumping-off point for all of Europe. You could do Berlin, you could do Paris, and the NBA has played around in those cities before. But it's always tied to the arena," he said.
This weekend's slate of action kicks off Friday from Toronto's Air Canada Center at 7 p.m. ET on ESPN with the NBA All-Star Celebrity Game. The 2016 NBA All-Star Game tips off on Sunday at 8 p.m. ET on TNT.