NBA All-Star Game Ticket Prices Plunge: Location Change to Blame?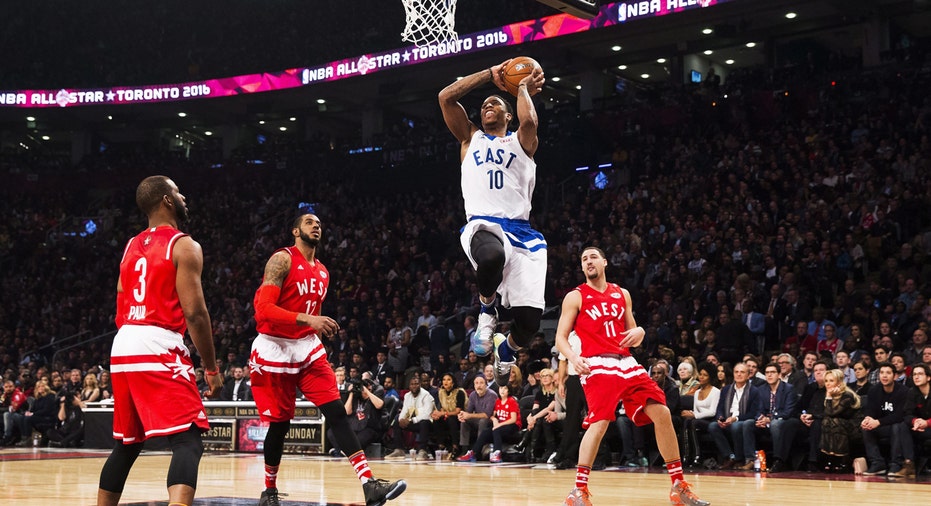 Ticket prices are plunging as this weekend's NBA All-Star festivities kick off in New Orleans, six months after the league relocated the annual showcase event from its original site in Charlotte in protest of North Carolina's controversial transgender bathroom law.
As of Friday morning, the cheapest available seat for Sunday's NBA All-Star Game at the Smoothie King Center cost $184, according to data compiled by TicketIQ, a resale market ticket aggregator. That number is a 71% decrease from last year in Toronto, when the cheapest ticket on the Friday before the game cost $644. The plunge may not be over -- the price of the cheapest seat in 2014, when New Orleans last hosted the All-Star Game, fell 39% between Friday and tip-off on Sunday.
With New Orleans set to host All-Star Weekend for the third time– and the second time in four years – fans may be growing weary of the experience, according to Jesse Lawrence, CEO and founder of TicketIQ. By comparison, Charlotte, the original location, hasn't hosted the game since 1991.
"Basketball demand is already lower [in] New Orleans than other cities, and having hosted the All-Star Game just three years ago, the city has 'All-Star fatigue,'" Lawrence told FOX Business.
The NBA revoked Charlotte's hosting privileges last July in protest of North Carolina's "House Bill 2." The controversial measure, which became law last March, bars local governments from passing laws that restrict discrimination against LGBT individuals in public locations, and requires transgender individuals to use public restrooms that correspond to their biological sex. An attempt to repeal the law failed last December, while other repeal bills are currently being considered by state lawmakers.
Last August, NBA Commissioner Adam Silver announced that New Orleans had been granted hosting rights for the 2017 All-Star Weekend. Overall, tickets to the All-Star Game this year are selling for an average of $1,007 on TicketIQ, a significant drop from last year, when the average resale price for the Toronto game stood at more than $2,000.
Tickets to this year's NBA All-Star Saturday Night, which consists of fan-favorite events like the Slam Dunk contests and the Three-Point Contest, are also significantly less expensive than last year. The cheapest available ticket costs $157, compared to $362 on the Friday before the game in 2016.
SeatGeek, another resale market ticket aggregator, noted a similar decline in this year's prices. On that site, the cheapest seat available costs $233 – a sharp plunge from just one month ago, when the "get-in" price stood at $577.
"While many fans will travel to NBA All-Star Weekend, the local market plays a big role in the demand for tickets," SeatGeek content analyst Chris Leyden told FOX Business. "With the weekend returning to New Orleans for the third time in the past 10 years, demand locally is not what it was the past two years in Toronto and New York, two much larger cities that had not hosted the festivities in more than a decade, if ever."