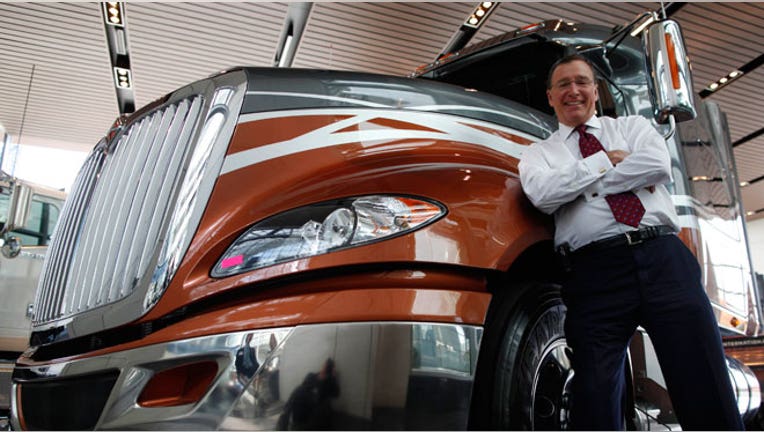 Navistar International (NYSE:NAV) reported a larger first-quarter loss amid lower truck volume in North America.
The truck maker has been stuck in the red during a transition to a new emissions treatment system for its engines. Navistar said Wednesday its loss in the latest period was $248 million, or $3.05 a share, versus a year-ago loss of $123 million, or $1.53 a share. The company logged $18 million in asset write-downs.
Revenue slipped 16% to $2.2 billion, well below a Wall Street estimate of $2.61 billion. Analysts were also looking for a much smaller loss of $1.77 a share.
The Lisle, Ill.-based company, which failed to meet tougher U.S. emissions standards for about three years, implemented the same treatment system used by the rest of the industry in 2012. In addition to the expense of adopting a new emissions treatment system, Navistar has incurred significant costs for warranty claims on a new 13-liter engine.
Last spring, the Environmental Protection Agency certified Navistar's 13-liter engine, while Navistar also agreed to have Cummins (NYSE:CMI) supply exhaust-treatment components and heavy-duty truck engines.
President and CEO Troy A. Clarke said the company was braced for a difficult first quarter, given reduced sales at its military business and Navistar's mid-range product transition. He also noted that the first quarter represents the weakest operational period for the company.
Navistar's North America truck segment booked a $207 million loss in the first quarter, compared to a loss of $101 million in the same period a year earlier. Net sales were down 18%.
The company plans to launch its own inline six-cylinder engine with selective catalytic reduction emissions technology this summer, complementing the recent launch of a similar Cummins engine. Navistar hopes the move will help it reclaim its market position in buses and medium-duty trucks, Clarke said.
"We're gaining momentum in the marketplace," he added. "As we fully launch our mid-range SCR portfolio in the coming months and complete this phase of our engine restructuring, we anticipate we will improve our financial performance throughout 2014."
Clarke reiterated guidance of an 8% to 10% EBITDA margin run rate exiting 2015.
In September, Navistar said it would cut costs by $50 million to $60 million annually starting this year. The cost-cutting program was expected to impact about 500 positions, including salaried employees and long-term contractors.
Navistar shares fell 2.3% to $36.91 early Wednesday morning. As of Tuesday's close, the stock was up 14.3% over the last six months, slightly ahead of the broader S&P 500.