Nathan's Hot Dog Contest: Joey Chestnut favored to defend title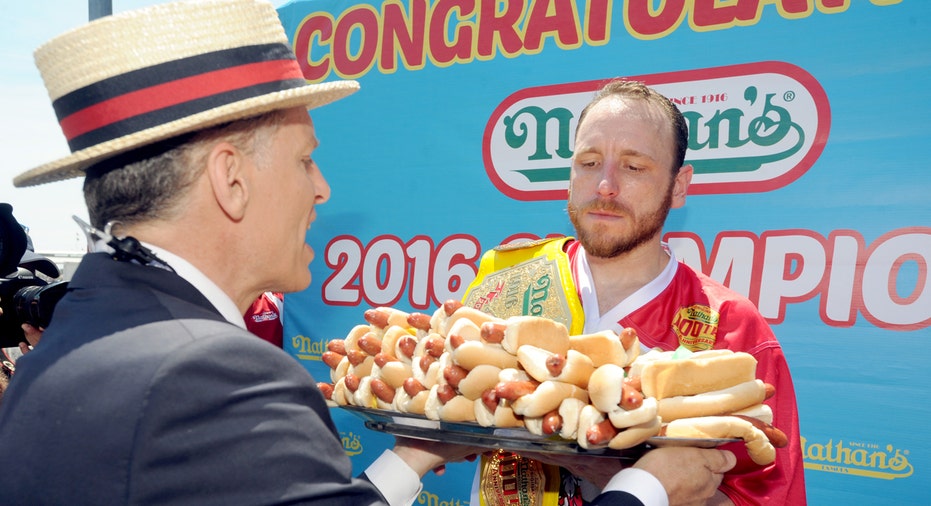 Legendary competitive eater Joey "Jaws" Chestnut is once again the odds-on favorite to take home the men's championship belt at the Nathan's Hot Dog Eating Contest on Tuesday.
Chestnut, 33, is a -400 favorite to defeat top rival Matt "Megatoda" Stonie at the 101st annual event in the Brooklyn, New York neighborhood of Coney Island, according to the latest odds from Bovada.LV, an online sportsbook. Stonie, who is the only other competitive eater to win the men's championship in the hot dog contest since 2007, is a +250 underdog.
A nine-time Nathan's hot dog contest winner, Chestnut ate a record 70 hot dogs in just 10 minutes last year to regain the championship from Stonie. Chestnut won the contest eight consecutive times from 2007 to 2014.
On the women's side, Miki Sudo is expected to win the championship for the fourth consecutive year, with -450 odds of taking home the title. Sonya "The Black Widow" Thomas, also a three-time champion, is a +275 underdog.
As usual, the winners at this year's Nathan's hot dog contest will split a total prize pool of $40,000. The champions of both the men's and women's division will take home $10,000.
The women's contest will be held at 11 a.m. ET and can be viewed on the WatchESPN app. The men's contest begins at 12:40 p.m. ET and will air live on ESPN2.