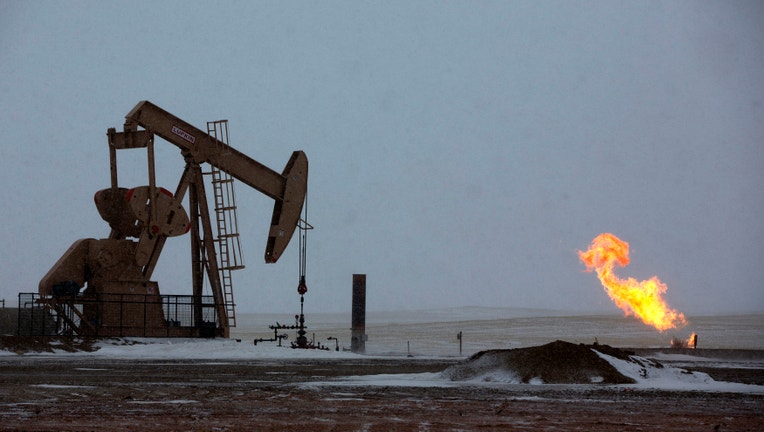 U.S. natural gas futures rose to $6 per million British thermal units on Wednesday, the highest in more than four years, boosted by unrelenting forecasts for frigid cold weather across the United States that will further drive heating demand and deplete natural gas supplies.
Traders bought futures contracts to cover short positions as prices rose, advancing the rally, brokers said.
Forecasters continue to call for below-normal temperatures after record-cold weather in January led to steep draws in underground stocks of natural gas to meet heating demand, leaving less gas to meet summer electric power demand.
The 11-15 day forecast points to "ongoing colder than normal conditions" over much of North America, said meteorologists at MDA Weather Services in Gaithersburg, Maryland.
Temperatures in Chicago will reach sub-zero (Fahrenheit/below minus 18 degrees Celsius) at the end of next week while New York temperatures will reach into the teens, according to the MDA forecast.
Natural gas futures for March delivery gained as much as 45.6 cents to reach a high of $6.007 per mmBtu, the highest price since Jan. 7, 2010.
March gas futures on the New York Mercantile Exchange were last trading 43.4 cents higher at $5.985 per mmBtu at 10:33 a.m. EST (1533 GMT).
The March contract traded more than $1 above April, widening the spread between the two by some 86 cents in one week.
"The rally is confined to March, but as time goes by the seriously depleted storage level is going to catch on," said Gene McGillian, analyst with Tradition Energy in Stamford, Connecticut. "The back of the board has some catching up to do."
Storage levels are expected to drop to a low of 890 billion cubic feet (bcf) at the end of March, and "we do not see a full recovery over the summer," said Thomson Reuters natural gas analyst Jan Schulte.
Analysts at Thomson Reuters Point Carbon are expecting the U.S. Energy Information Administration (EIA) to report a draw of 263 bcf in Thursday's weekly inventory report. Analysts polled by Reuters forecast drawdowns of between 212 bcf and 268 bcf.
In the cash market, gas at the Henry Hub <GT-HH-IDX>, the benchmark supply point in Louisiana, rose 23 cents to $5.97 per mmBtu on average, a 1-cent discount to the NYMEX.
Gas prices for Thursday delivery on the Transco Zone 6 pipeline <E-TSCO6NY-IDX> in New York traded 8 cents higher at $6.13 per mmBtu on average.
Nuclear plant outages, which create demand for natural gas as a substitute fuel, were at 9,655 megawatts, up from 9,570 MW on Tuesday. That compares with 16,100 MW a year ago and a five-year average outage rate of 10,300 MW.