NASCAR Puts Comcast in the Driver's Seat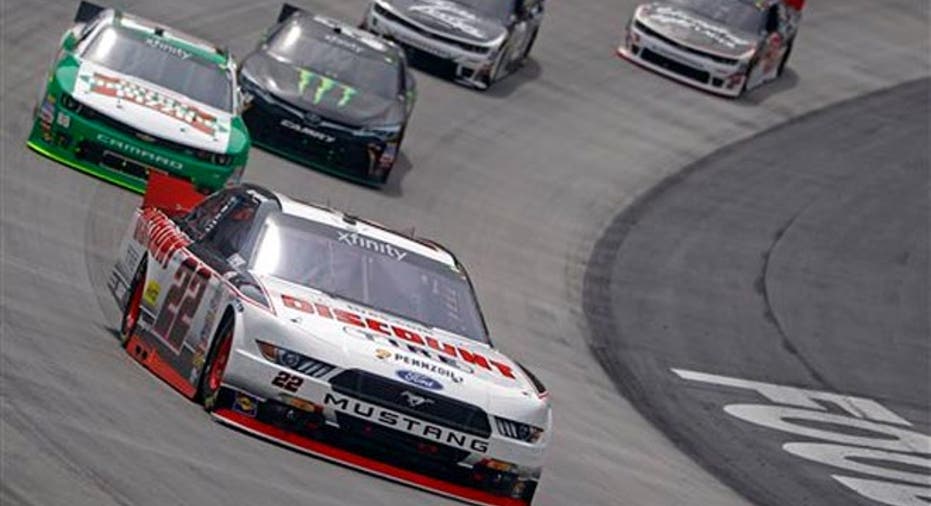 Comcast's (NYSE:CMCSA) Xfinity brand is in the driver's seat just a few week's into its inaugural campaign as title sponsor for NASCAR's second-tier circuit. Terms of the ten-year deal have not been made public, but both sides are banking on Comcast's technology to create a new paradigm for completing the loop with racing fans and drafting new aficionados in a bid to reach Victory Lane.
"We are excited about the growth potential of NASCAR, the fanbase and viewership," said  Peter Intermaggio, a senior vice president at Comcast. "Technology is a really important part of the NASCAR story today."
Comcast provides access that many viewers will use to watch live and archived races on TV and online. It is also building apps for the Xfinity platform that can bring a second-screen experience and stats to the TV or other primary screen and it offers on-demand races anytime. Then its NBC network will broadcast the second half of the NASCAR season.
That last point is key. Consider the typical consumer products or services company, even title sponsors such as Xfinity's forerunner Nationwide Mutual Insurance Co., generally rely on others to make mentions and impressions along with prominent TV and trackside signage.
One sports marketing executive familiar with these types of deals, but who didn't want to be named, said, "It's rare that a broadcaster has a consumer products platform it needs to market. Given the rights fee they are paying for TV, I'm guessing NASCAR gave them a favorable deal."
NASCAR Chief Operating Officer Brent Dewar would not confirm that Comcast had the high bid for the title rights but did disclose. "We had a number of candidates in their (bid) range. What we liked about Xfinity was its ability to market the sport and the technology. We're a racing and entertainment business."
Dewar added, "Sports today is about engagement; the deeper the levels of engagement, the better," which can also be aided by traditional mediums he said. "Broadcast has always been important—we've got a new 10-year agreement with Fox and NBC allowing them to tell those story lines. Xfinity can go even further with multi-platform video aspects." Fox is a unit of 21st Century Fox the parent company of FOXBusiness.com
This type of sponsorship deal is unusual and it's unclear if the arrangement will be more successful for Comcast or NASCAR than if the title sponsorship had been awarded to another Fortune 100 firm that doesn't own media broadcast and distribution arms.
"The vertically integrated model for a broadcaster might work better than the disintegrated approach, but this is relatively new and I haven't seen any other research on this to know if it works on a regular basis," says Professor Craig Depken, who teaches sports economics in NASCAR country at UNC Charlotte's Belk College of Business.
Depken says there are too many sponsorships being sold in all sports, diluting the value of the primary sponsorship. Plus, Nationwide sponsored the series for seven years, and it can be tough to convert fans to new names.
Comcast's Intermaggio says his company is "pleased" with awareness so far and wants to engage both loyal and new fans. "We're excited about what NASCAR is doing with building a new audience, targeting Hispanics and Millennials; we're focused on that, too."
The ratings have not yet followed Xfinity's lead. Early numbers are off the pace from the same period a year ago, but as the TV audience becomes increasingly fragmented, NASCAR, like most sports outside of the NFL, is looking at cumulative audience numbers across different platforms.
That's something NASCAR's Dewar says made Xfinity a good partner, one that can perhaps drive audience numbers higher and convert casual viewers to core fans: "We look at total consumption, we track digital sites, social media and broadcasts and try to look at the 360 degree view plus attendance at tracks. On any given weekend, we're the number one or two sport throughout the year."
Comcast is also the primary sponsor in four races this season for a car fielded by Joe Gibbs Racing on the top-level Sprint (NYSE:S) circuit. Intermaggio says not to read too much into that, or the fact that Sprint has announced it will not renew its title rights after next season. He declined to comment on potentially bidding to take over Sprint's role on the senior circuit.
Instead he offered. "While there's a great past in NASCAR, the future is really where we're headed."