N.Y. Times Profit Beats Street on Digital Subscriber Growth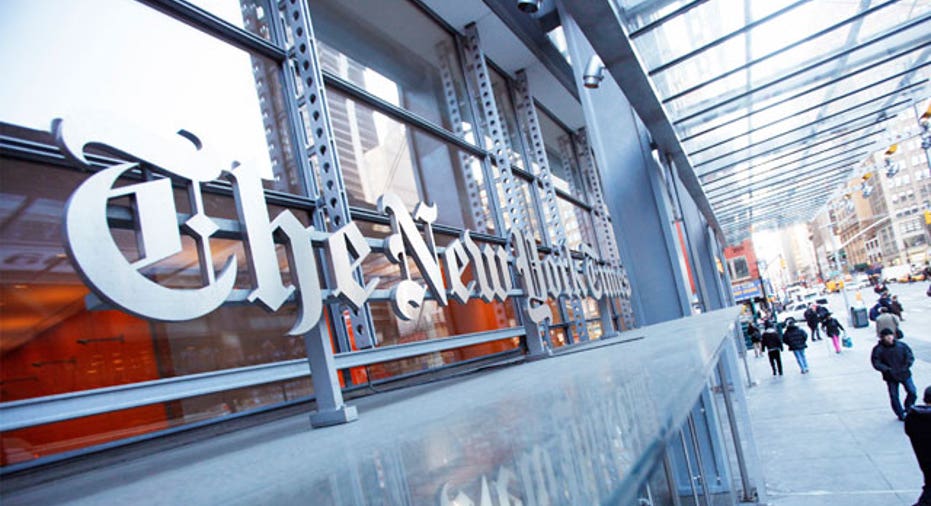 The New York Times (NYSE:NYT) revealed on Thursday a stronger third-quarter profit that topped Wall Street expectations as higher subscriptions for its digital products helped to boost overall circulation.
The Manhattan-based newspaper reported net income of $15.5 million, or 10 cents a share, compared with a year-earlier loss of $4.2 million, or 3 cents a share. Excluding special items, The New York Times said it made 5 cents a share, which beats average analysts estimates in a Thomson Reuters poll by a penny.
Circulation revenues climbed 3.4% with the help of the introduction of digital subscriptions at The Times that offset weak print copies sold, however digital advertising revenue was still down 4.5%, due mostly to a significant decline in about.com sales.
Revenue for the three-month period was up 3.1% to $537.2 million from $554.3 million a year ago, missing the Street's view of $540.9 million.
The number of paid subscribers at nytimes.com and related digital products was 324,000 at the end of the quarter, up from 281,000 at the end of the previous period.
The company's About Group saw a sharp 20.8% sales drop to $25.7 million from $32.5 million in the year-earlier period, due to decreases in both cost-per-click and display advertising.
The Times attributed that to rising competition and algorithm changes Google implemented that caused about.com to appear lower in searches.
New York's largest non-financial newspaper said advertising revenues were down 8.8% and print advertising revenues declined 10.4% during the period.
However, expenses were lower, with operating costs down 3.6% to $504.2 million and newsprint falling 3.3%.