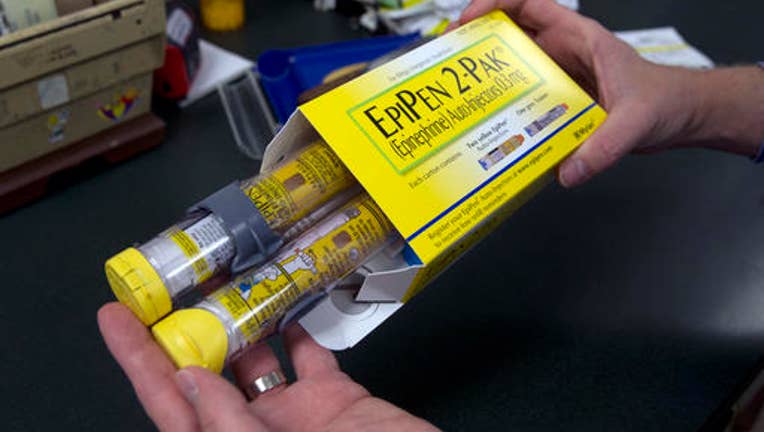 Despite facing severe criticism and legal investigations last year for doubling its cost, Mylan's (NASDAQ:MYL) EpiPen still commands more than 25% of the U.S. market, The Wall Street Journal reports.
The company has been able to hold on despite growing numbers of alternatives though its contracts with pharmacy benefit managers like Express Scripts and CVS Health, who say they prioritize the allergy treatment because the margins are better.
Last month, Express Scripts said it would cover the EpiPen over competing epinephrine auto-injector systems for the 2018 benefit year. Among the drugs excluded from their coverage list were multiple variations of the EpiPen made by Impax Laboratories Inc., A-S Medication and Kaleo.
Express Scripts says the move will save its health insurers and corporate customers around $2.5 billion in 2018. And while Express Scripts does block the use of the brand-name EpiPen in many of its health plans, it does cover both the brand and the generic in other plans to ensure there is enough supply. CVS also told WSJ that almost 60% of its customers are using the generic alternative to EpiPen.
Mylan is still facing a number of lawsuits alleging unfair and anti-competitive conduct after the drugmaker hiked up the price of its two-pack of EpiPens to $600 last year from roughly $100 in 2009.
Amid pressure, the company launched a $300 generic version in December after more states threatened to sue the company over the alleged price-fixing conspiracy.
According to the U.S. Securities and Exchange Commission, Mylan has been named as a defendant in 13 proposed class action lawsuits related to the pricing or marketing of its EpiPen since August of 2016.