Murdoch to Hand Over Fox Reins to Sons James and Lachlan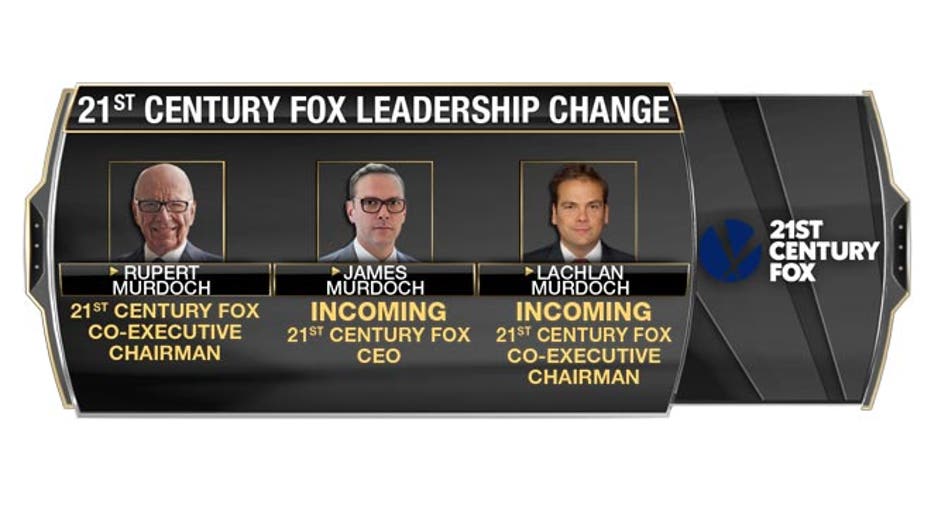 Rupert Murdoch, the founder and longtime hands-on leader of the media and entertainment empire he built, is handing over the reins of 21st Century Fox (NADAQ:FOXA) to his two sons, the company's board of directors announced Tuesday.
The elevations of brothers James and Lachlan Murdoch to top positions in the company was widely expected after being reported last week. 21st Century Fox had confirmed that a succession plan for replacing Rupert Murdoch was on the agenda for the company's board of directors meeting held Tuesday in New York.
The moves will take effect July 1, according to a statement released by the company shortly after markets closed.
Rupert Murdoch, 84, will step down as CEO and be replaced at the top by his son James, 42, who has been serving as co-chief operating officer. Lachlan Murdoch will become executive co-chairman serving alongside his father.
And Chase Carey, the company's deputy chairman, president and COO since 2009, will become the executive vice chairman helping out the brothers as they transition into their new positions. Carey will serve in that position through June 30, 2016, according to the statement.
The company's corporate functions, and its global television and film operations will now jointly report to Lachlan and James Murdoch.
21st Century Fox was formed in 2013 when News Corp. was split into two units, one to house the company's media and entertainment divisions, including the lucrative Fox News Channel, and another to house its print and digital properties including The Wall Street Journal, Dow Jones Newswires and Barrons.
Roger Ailes, who helped create Fox News, will continue to report to Rupert Murdoch, according to various reports.
Rupert Murdoch said in the statement: "It has always been our priority to ensure stable, long term leadership for the Company, and these appointments achieve that goal. Lachlan and James are each talented and accomplished executives and together, we, as shareholders and partners, will strive to take our company to new levels of growth and opportunity at a time of dynamic change in our industry."
Murdoch also commented on Carey's role in helping the Murdoch brothers through the transition to new leadership: "I can't thank Chase Carey enough for his friendship, counsel and leadership over the past decades. He will be actively engaged in supporting Lachlan and James as they step in to their new roles."
Carey said he is  "grateful to Rupert" for the opportunity, adding there isn't a Company out there that's more exciting, with more growth potential, than 21st Century Fox. I look forward to continuing to work with Rupert to support Lachlan and James in their new positions."
Lachlan Murdoch and James Murdoch, in a joint statement, said: "We are both humbled by the opportunity to lead, with our father and the talented team of executives at 21st Century Fox, this extraordinary company."
Rod Eddington, lead director, 21st Century Fox, said: "The Board has long been focused on succession and we're fortunate to have two very talented executives in Lachlan and James to take this Company into the future."