Motorola: 'Mod' Adds-Ons Could Take Our Phones to 5G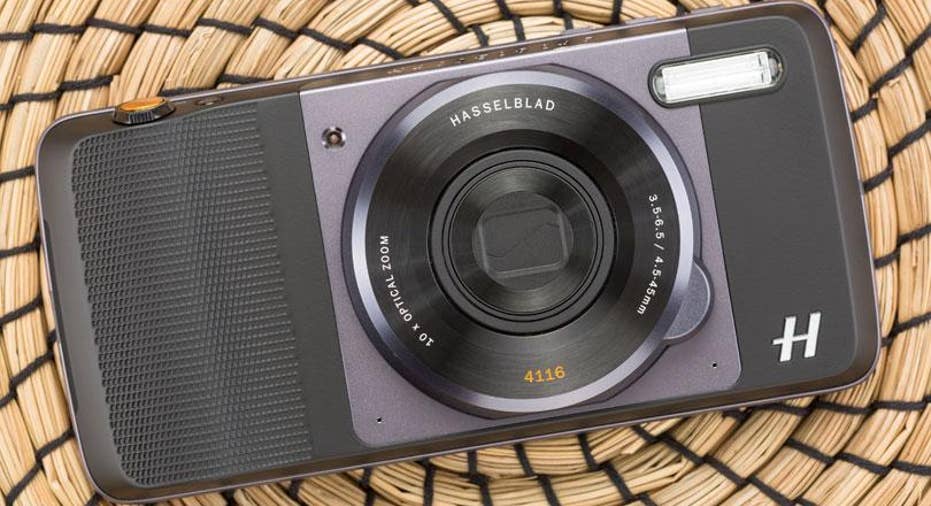 CHICAGO—Motorola is stepping up the pace on its "mod" add-ons for the Moto Z line of phones, with e-ink displays, a baby monitor, and even a Verizon 5G modem being outside possibilities, John Touvannas, senior director of product management said at a press event today.
"Without having to wait for the next-gen phone that can bring the next technology or capability, we can get to that quicker through the mod," he said.
For now, though, Motorola is rolling out two mods soon: a 3000mAh Mophie battery pack, now available from Verizon, and an Incipio car dock with charging and a 3.5mm audio output, coming soon.
In a year where we saw several attempts at "modular" phones, Moto's is the only one that actually took off. Google's Project Ara was cancelled, the LG G5's "friends" concept never really developed, and ZTE's modular concept phone stayed a concept. But the Moto Z has rolled out five mods so far, including batteries, a projector and a camera (pictured above), and these two new ones make seven.
Half of Moto Z owners are using mods, with 20 percent of those using the costly projector and camera mods, Touvannas said. Motorola's research shows that mods are the top reason people are buying the phone. "It's the No. 1 driver by quite a bit," he said.
The mods aren't staying in drawers, either. Battery mods are used on average 37 hours a week, and the projector is used 10 hours a week, according to user data.
Now Motorola is really trying to push a third-party ecosystem and to make the mods available for more phones. While the mod platform currently only works on the Z lineup, the mod idea could run down into Motorola's more affordable devices in the future, Touvannas said.
The company is running hackathons and an Indiegogo campaign to generate new mods, and it's seen more than 380 submissions so far. Alarm clocks, e-ink screens, game controllers, keyboards, walkie-talkies, and a kinetic charger are all in play, said Stephen McDonnell, director of the Moto Mods ecosystem.
Mods can access direct display interfaces, talk to the image-processing unit in the phone, or communicate via USB 3.1, which would be fast enough for that 5G radio.
"I think you're going to see more [mods] next year than you did this year," Touvannas said.
Look for more news about about 2017's potential Moto Mods at CES next month.
This article originally appeared on PCMag.com.