Mortgage Rates Sink to Record Low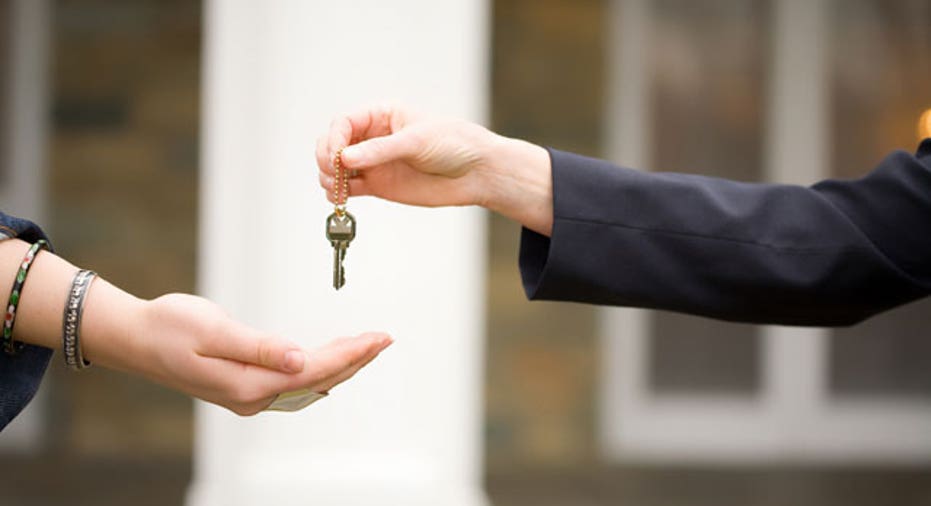 With mortgage rates near record lows, this is a swell time to refinance as long as you're a fan of "I Love Lucy," because "you'll have some 'splaining to do."
The benchmark 30-year fixed-rate mortgage fell 3 basis points this week, to a record low 4.29%, according to the Bankrate.com national survey of large lenders. A basis point is one-hundredth of 1 percentage point. The mortgages in this week's survey had an average total of 0.41 discount and origination points. One year ago, the mortgage index was 4.5%; four weeks ago, it was 4.41%.
The benchmark 15-year fixed-rate mortgage fell 2 basis points, to 3.42%. The benchmark 5/1 adjustable-rate mortgage fell 2 basis points, to 3.05%, and the benchmark 30-year, fixed-rate jumbo rose 2 basis points, to 4.85%.
Bankrate began gathering weekly mortgage rate data 26 years ago, on Sept. 25, 1985. This week's benchmark rates on the 30-year fixed, 15-year fixed and 5/1 ARM are record lows since that time. The previous records had been set the week before.
The rate data were gathered before the Federal Reserve announced that it will try to keep mortgage rates low. The Fed owns billions of dollars' worth of mortgage-backed securities. Every month, some of those loans are paid off, and the Fed will reinvest that money in more mortgage-backed securities. Theoretically, at least, that should boost the price of mortgage bonds, which would have the effect of keeping mortgage rates down.
About four-fifths of loan applications last week came from homeowners who wanted to refinance their home loans, according to the Mortgage Bankers Association. Those borrowers endure a strict, frustrating and downright demeaning refinancing process.
"Be ready for questions, and be prepared to offer written explanations for recent credit inquiries, abnormal deposits, change of employment or job gaps, etc.," says Jim Sahnger, mortgage consultant with FBC Mortgage in Stuart, Fla.
They're called letters of explanation. Michael Becker, mortgage banker with WCS Funding Group in Lutherville, Md., says he is writing more of them than ever before in this wave of refinance applications.
Becker and his clients write letters of explanation "for any credit inquiries in the last 120 days, for any derogatory items such as collections, judgments and even nonmortgage late (payments). Large or out-of-the-ordinary deposits on your bank statements have to be explained."
The letters of explanation come on top of the normal documents lenders demand. A typical request might include two months' worth of bank statements, a quarterly asset statement, a month's worth of paystubs, two years of W-2s, and two years of personal and business tax returns. Becker says he spends a lot of time gathering all the paperwork in advance to make the process go more smoothly. That means the borrower can speed things up by having those documents ready when applying.
Even when paperwork is processed painlessly, there's often a delay from a pesky appraisal. When looking to refinance, homeowners often consult home-value sites, such as Zillow, to figure out whether the home's value will support a new loan. Then an appraiser visits the house and values it at less than the estimated value seen online, shooting down the refinance attempt.
"Don't expect property valuation sites to be completely accurate," Sahnger says. "Wide swings can exist from what the Zillows of the world see, what you see and what the appraiser sees."
Sahnger suggests preparing carefully before the appraiser's visit. At the most mundane, that entails cleaning and decluttering. "Prepare for the appraisal inspection in the same way you would prepare for an open house," Sahnger says.
But that's not the only prep needed for the appraiser. To increase the chances of a successful refinance, be ready to tell the appraiser about improvements you've made to the home, and have receipts ready to back up your case. Gather information about recent sales of comparable homes in your neighborhood and "have it ready to provide feedback for the appraiser if it can help you," Sahnger says.
About one-fifth of mortgage applications come from a buyer instead of an owner trying to refinance. The National Association of Realtors says home resales increased in August, despite lending and appraisal hassles. The Realtors say 502,000 homes were sold in August, a 21% increase compared to 414,000 sold in August 2010.