Morgan Stanley Huddles with NFL Players to Lend Financial Advice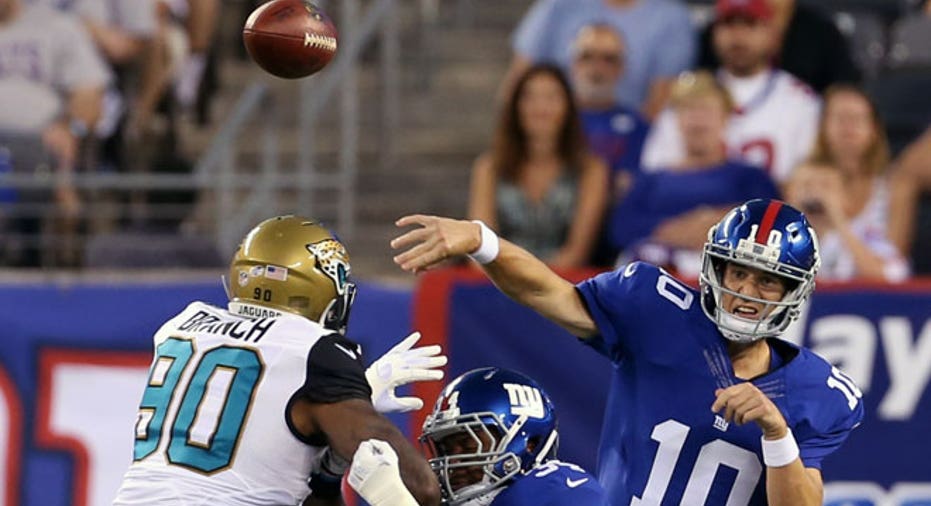 Not everyone in the NFL is on a gravy train. Consider that a player on a team's practice squad get a minimum salary of $6,600 per week for the 17-week regular season—$112,200 for the year before taxes.
And if players get cut? Unlike in baseball, NFL contracts are not fully guaranteed.
Morgan Stanley (NYSE:MS), working with former athletes Bart Scott and Antoine Walker, started a financial education program that lends advice to aspiring and current pros. The Seattle Seahawks, Jacksonville Jaguars and several NCAA programs have already teamed up with the wealth management firm.
Drew Hawkins, managing director and head of Morgan Stanley's Global Sports & Entertainment division, said financial education is a key component of the company's approach to advising athletes, especially NFL prospects who are often caught unprepared for careers that last an average of just 3.5 years.
Many up-and-coming athletes are "ill-equipped to make smart financial decisions" early in their careers, Hawkins added, "but we understand they are not financial pros. A big focus for us is financial education."
Money management has been a lingering problem in professional sports.
The National Bureau of Economic Research, using data on 2,000 NFL players drafted between 1996 and 2003, found that 16% of them filed for bankruptcy within 12 years after they retired. Another report from Sports Illustrated in 2009 said 78% of former football professionals have either gone bankrupt of experienced financial stress two years after leaving the game.
Hawkins recalled a recent story about John Urschel, an offensive lineman with the Baltimore Ravens and a noted math whiz, who caught attention at training camp for driving a subcompact Nissan Versa that he bought for $9,000 when he was drafted.
Frugal living is somewhat unusual in professional football, even for rookies who can get swept up by the NFL spotlight.
For players coming out of the draft, Hawkins stressed the importance of pocketing cash to hedge against injuries or roster cuts. He also suggested that players should consider holding off on buying a home in their new market, just in case they switch teams.
"In terms of looking at rookies, we recommend aggressive savings in the 25% to 40% range. That provides an opportunity out of the gate to put some dollars away because you don't know what's going to happen," he explained.
Newcomers to the NFL, like anyone starting their first job out of college, can overlook another big financial curve ball: taxes.
"A lot of individuals get to meet this man who is going to be their uncle for life, and that's Uncle Sam. They think, wow, a $5 million contract is going to be $2 million?" Hawkins said, taking into account taxes and normal expenditures like food and housing. "These numbers get whittled down pretty quickly."
NFL players have to plan for many what-if scenarios. Their money is not guaranteed, so franchises can release players without paying the remaining salary. Clubs have made a practice of backloading contracts—deferring money to the end years of a deal—to help manage their salary cap in the near-term. As a result, players can miss out on a significant amount of money.
A recent example is eight-year veteran Fred Jackson, a running back cut by the Buffalo Bills. Jackson was slated for a backup role in the final year of his deal, so the Bills decided to dump his $2.5 million base salary. Last week, the Seahawks picked up Jackson for an undisclosed sum.
The potential for injuries creates uncertainty as well, although there are some insurance options that players can utilize.
Among the four major sports, football offers the lowest earnings potential, too. NFL players made $2 million on average in 2013, well below the NBA's average of $4.9 million for the 2013-14 season according to Forbes. MLB players averaged $3.82 million in salary during the 2014 season. Teams in the NHL paid their players an average of $2.58 million.
Plus, outside of high-profile positions like quarterback, sponsorships are harder to come by in the NFL.
"Endorsement dollars are not what you typically see in basketball and baseball. It adds to the need for aggressive saving," Hawkins said.
The NFL's pension plan offers some financial help down the road. Players become fully vested once they log three full seasons in the league. Still, the pension does not kick in until former players are 55 years old, potentially 30 years after retirement.
In a February report, Morgan Stanley said athletes and entertainers with unpredictable earnings have an 85% chance of being fully funded through age 90 using an asset allocation of 55% in equities, 25% in fixed income, 10% in alternative investments and 10% in cash.
The firm determined that the highest-earning athletes have the same probability of a funded retirement with 50% in fixed income, thereby limiting exposure to market volatility.