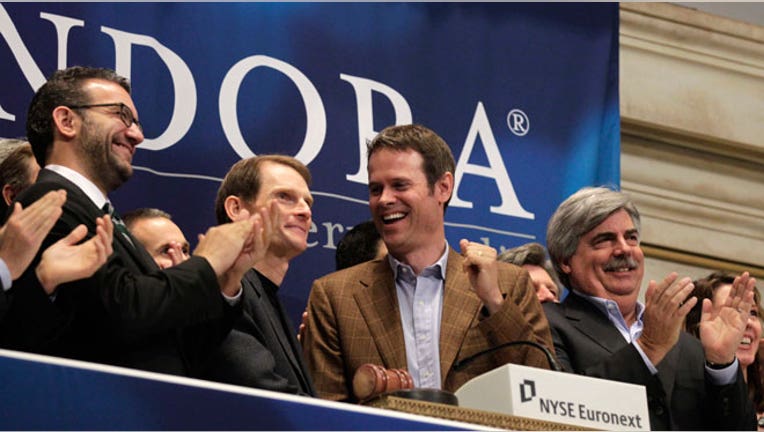 Morgan Stanley cut Pandora (NYSE:P) to "equalweight" from "overweight," citing short-term costs as the Internet radio leader increases headcount on sales teams.
Morgan Stanley analyst Scott Devitt said efforts to aggressively ramp up its local radio sales teams will "boost monetization for Pandora over the long-term."
However, it could also pressures shares in the short-term. Devitt said the investment "will likely lead" to fiscal 2014 earnings below the consensus.
The bank raised the Oakland, Calif.-based digital radio's estimate on marketing and sales costs for fiscal 2013 and 2014 to $87 million and $121 million, respectively, from an earlier $85 million to $106 million.
The higher forecasted costs related to sales hiring are expected to lower Morgan Stanley's fiscal EBITDA view on Pandora to a loss of $11 million, or 12 cents a share, in 2013, and a profit of $3.2 million, on a loss of 7 cents a share, in 2014.
The bank had previously forecasted a loss of $99 million, or 9 cents a share in 2013 and a 2014 profit of $13 million, on a 3-cent non-GAAP loss per share, respectively.
The Street is calling for a loss of just $10 million, or 11 cents, in fiscal 2013 and a profit of $15 million, or 5 cents, the year following.
Morgan Stanley said its updated view reflects a "longer road to sustained profitability."
Pandora, which controls 71% of the Internet market, has been recording increased listener hours, up 110% in fiscal 2012. The beefed up staff could lead to higher revenue per hour as well as an increased ad load and listener interactions that could drive ad inventory.
"We believe that investing in local sales staff could yield long-term benefits, as radio advertising dollars offer a significant opportunity to improve mobile monetization before the mobile display market catches up to consumer time spent," Devitt said in a report.
However, Devitt said investments and royalties, as well as hiring costs, challenge near-term profitability. He noted that the longer Pandora takes to reach profitability, "the more vulnerable its shares will be to the challenging market environment for early-stage companies."
Shares of Pandora traded down more than 2.6% to $9.85 Monday afternoon. Its shares are down more than 26% since its June 2011 IPO.
Morgan Stanley lowered its 12-month base case on Pandora to $12.