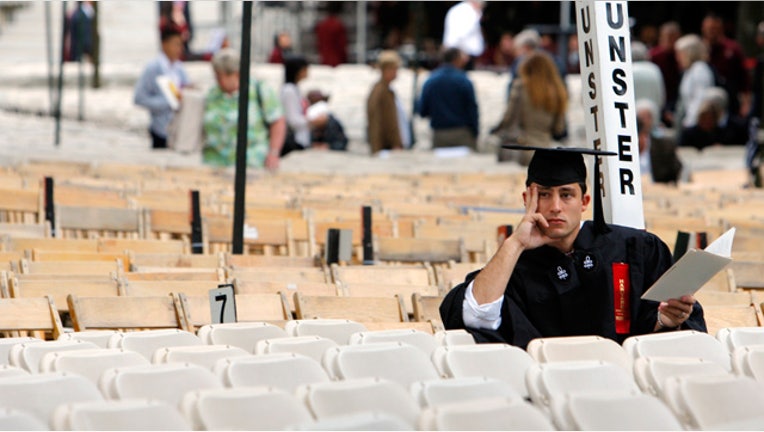 As the cost of education continues to rise, the loan burden on borrowers post-graduation is taking its toll. According to recent reports, student loan defaults are on the rise, as are the number of college graduates filing for bankruptcy.
According to the Department of Education, 8.8% of all student-loan borrowers defaulted in the last fiscal year, which ended Sept. 30. This is up from 7% in the previous year. And a survey from the Institute for Financial Literacy, the "2010 Annual Consumer Bankruptcy Demographics Report," found that the percentage of bankruptcy filers who hold a bachelor's degree rose to 13.6% in 2010 from 11.2% in 2006.
The default rate on loans for public colleges and universities is now at 7.2%, up from 6% in the year prior, and for not-for-profit private institutions the rate is 4.6%, up from 4%. At for-profit schools, the rate climbed to 15% from 11.6%. These are the highest rates since 1997, according to the Department of Educations research.
Christina Frediani, owner of StudentLoanExperts.com said student loan default is happening more frequently, because it can be easier to ignore.
"In a similar sense to credit card debt, it is a huge amount of money that is right in their face, but it's not the same as a home or mortgage, where it is tangible," Frediani said. "You can sweep it under the rug and more easily ignore those monthly statements."
Before defaulting on your student loans, contact your lenders. Frediani said defaulting might not be necessary and there may be forbearance options available, especially if you have lost your job.
"For a borrower to default, there is lack of communication over and over again," she said. "Ask, 'What are my options? What can I do?'"
If you have defaulted, look into a loan service company to get you back on track. They can help you set up payment arrangements with a collection agency or lender, and help you through the consolidation process if that is an option, Frediani said.
"Collectors are able to cripple debtors emotionally in terms of dealing with the problem with a clear mind," she said. "[A loan service company] will help create a game plan."
And if you end up months behind on your college loan and desperate for a lifeline, Frediani, who previously worked in debt collection, said that while bankruptcy may seem like a good option, it is not the smartest solution. Student loans are not dischargeable in bankruptcy filings, so the money will still be owed. Frediani also said that once a debtor files for bankruptcy, that option is not available for an additional seven to ten years.
"A lot of people assume it's just an easy option to erase debt, but that's not the way it operates anymore," she said. "If you use the bankruptcy option at 23 years old, that option is not available to you for the next 10 years. It's better to have an active history of credit than to file for bankruptcy at 25."