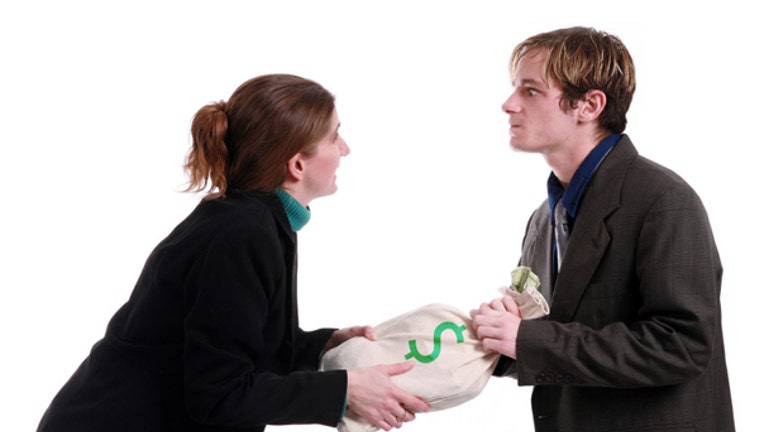 Wedding bliss can easily turn into marriage misery if newlyweds don't openly discuss their finances.
Money is often cited as a cause of marital strife, but experts say there are easy ways to avoid financial feuds.
The first step is creating a budget that details spending and saving targets that sets priorities and both parties agree to follow.
"Money creates resentment and you need to face it from the moment you get married," says Steven Kolinsky of Kolinsky Wealth Management in Woodcliff Lake, NJ. "You have to lay out the guidelines and rules.  You don't want your spouse coming home and opening the credit card bill and then the fighting begins."
The new household budget could get complicated if debt is coming into the marriage. Newlyweds have to sit down and lay out all their assets and debts and come up with a way to pay down money owed and also save for the future.
Take the time to get to know all the expenses, assets and liabilities and create a joint budget together," says Sean Lee, financial advisor and principal of SPL Financial, in Murray, Utah. "Having a budget alleviates a lot of stress and unnecessary spending."
In addition to having a budget, experts say couples have to agree on their money management style. For instance, will there be one joint account, two separate accounts or all above? According to Kolinsky, older people tend to lean toward one joint account whereas younger couples typically have a joint account for the large bills like the home and car payments and have separate accounts for discretionary spending.
According to Jason Kolinsky, also of Kolinsky Wealth Management, married couples have to think of getting married as entering into a legal contract when it comes to their finances. "Once you tie the knot, you share the problem," says Kolinsky. "If one individual has a good credit score and one has a poor credit score, it now affects them as a unit."
Right after tying the knot, couples should consider changing the beneficiary in all of their investments including, any 401(k)s, life insurance plans or IRA accounts. And even though the marriage is just starting, Kolinsky advises newlyweds start thinking about the future and what would happen to a spouse in case of a death or long-term illness. He says a low cost way to protect each other is to take out term life insurance. Newlyweds also want to each create a will and name a power of attorney for both the finances and health-care decisions.
When it comes to financial success as a couple, experts agree: it's all about communication. It's not uncommon for one person to be the spender and the other a saver in a marriage, but both people need to talk about any issues or problems that may come up.
"It's very important that both spouses have an idea of what's going on with the finances and have input," says Ben Barzideh, a financial advisor at Piershale Financial Group in Crystal Lake, Ill. "That way you hold each other accountable."