Mompreneur Erin Condren's $10M Paper Planner Empire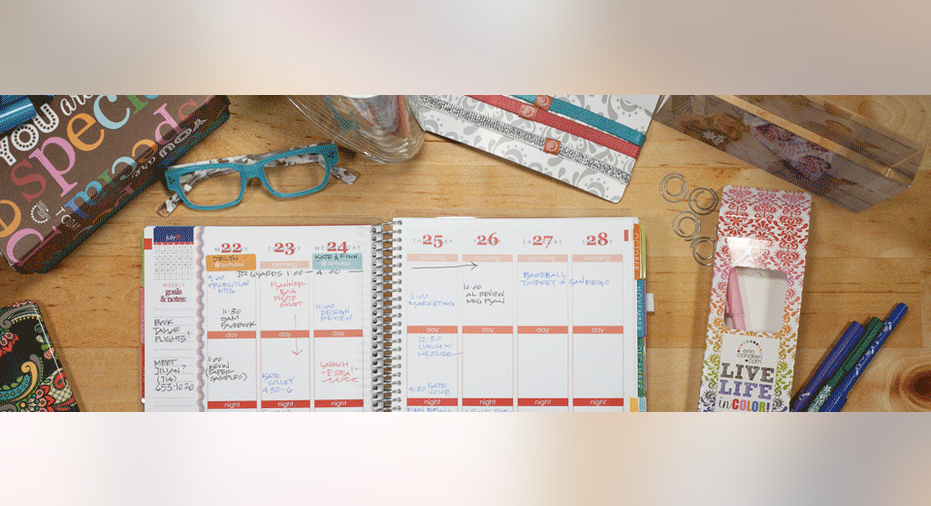 Move over appmania. One busy entrepreneur was willing to bet the company's future on the satisfaction of crossing off to-dos with a pen and paper. And her hunch paid off.
Erin Condren founded her eponymous paper goods company from her home in Hermosa Beach, Calif., in 2005, using an HP Photosmart printer. For the first couple of years, Condren says she held shopping parties where she sold self-made stationery and holiday cards, steadily building up a customer base.
Fast forward to 2013, and Condren oversees a staff of more than 110 people – and expects to hit $10 million in sales this year. In the first year the company sold 1,000 Life Planners; this year it sold 150,000.
"It took me seven years to get to 100,000 customers, and we doubled that in a year," says Condren. Two months ago, the site was gaining 1,000 new customers every other day; today, there are 1,000 new customers placing orders each day, she says.
A Busy-Mom's Bible Is Born
Condren's runaway bestseller that has propelled the company to success is the "Life Planner," a $50 paper agenda featuring bright designs and inspirational quotes that is monogrammed and customized with photos and stickers.
The idea for the Life Planner was born after Condren's husband met fine-art printer Al Marco, and introduced the two. Marco and Condren later became business partners, and while planning the company's expansion in 2007, Marco asked Condren to come up with one new product that she really believed in.
"I mocked up the [Life Planner], went to Kinko's and had it bound and was like, oh my gosh," says Condren. Convincing Marco that a clunky paper planner would be a bestseller, however, wasn't as simple.
"It was more of a busy-mom concept," says Condren, who says she loves technology but always preferred the feeling of crossing off a task on her paper to-do list.
"I could see other gals who were not as computer-savvy or phone-savvy and who still want that book, and are juggling work, kids and a workout schedule – they want to write it down," says Condren.
Marco acquiesced – on the condition that they only print the planners on demand, and not hold any inventory.
A Viral Marketing Success
While it is not a digital product, the Life Planner has a cult following online. Search "Erin Condren" on YouTube, and you'll pull up nearly 11,000 videos of women describing how they use their Life Planner, or the new cover designs released for the upcoming year.
"I haven't spent one penny on advertising," says Condren, who says she's benefited by the tactile nature of the planners and the stationery. Every time someone takes out their planner or sends out a holiday card with the Erin Condren name on the back, she says it serves as free marketing.
"I would fill an order from a new customer, make 150 holiday cards … and then 150 new people would find out about us and go to the website," says Condren.
Today, social media site Pinterest also serves as a great marketing tool, says Condren, given the site's focus on visuals and its heavily female user base.
"It's incredibly validating to see something I felt was going to impact my life and simplify my busy schedule … to see it help so many people," says Condren.
Growing Pains
Condren says it's been a struggle to keep up with holiday demand. Seasonally, the team swells to about 150 people, helping manage requests for annual calendars and holiday cards. Along the way, the company has had its share of growing pains.
"There are pros and cons to naming a company after yourself. People connect with me, and they feel that maybe I am still working from home," says Condren, who says she still receives customer service emails addressed to her by name. But when deliveries get bungled or orders take too long to arrive, she says the personal attention can be overwhelming.
"People don't realize the size of it and the complexity, so it's been hard for me to have people think it is just me," she says, when customers criticize her personally. "I'm going to have to get a thicker skin."
But that said, this entrepreneur wouldn't change a thing.
"It's not easy and juggling is a challenge … I'm not the room mom. I had trouble with that in the beginning, but my kids are proud of what I do. I have a balance there," says Condren.