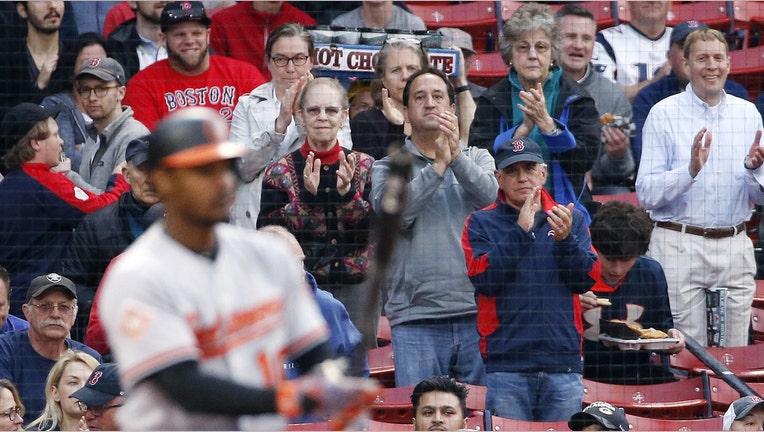 Officials from Major League Baseball and its 30 teams are expected to discuss potential stadium policy changes meant to curb unruly fan behavior, days after fans purportedly directed racist language at Baltimore Orioles outfielder Adam Jones at Fenway Park, a source with knowledge of the situation told FOX Business on Wednesday.
The league's 30 teams will be asked for their recommendations on how to improve security and the overall stadium experience, such as harsher penalties or stadium bans for fans that misbehave or use inappropriate language, the source added. As of now, there is no timetable for when the discussions will conclude or how quickly any changes will be enacted.
The planned talks are set to unfold after Jones said fans targeted him with racial slurs last Monday during the Orioles' 5-2 victory over the Boston Red Sox. More than 30 fans were reportedly ejected from Fenway Park during the game, including a fan who threw a bag of peanuts at Jones.
Zineb Curran, the Red Sox's senior director of corporate communications, said the team's review of the incident is "ongoing."
"The organization will continue to consider additional actions that may be taken against fans who use racial slurs in the ballpark. We have hundreds of employees, security personnel, and Boston Police officials who monitor the ballpark during games to ensure that the few fans who detract from Fenway Park's inclusive environment are identified," Curran told FOX Business.
The Red Sox did not immediately elaborate on what forms of further disciplinary actions are under consideration.
A Major League Baseball representative said the league "will have no tolerance" for fans that use racist language during its games.
"We encourage all fans to bring any incident of concern to the attention of ballpark personnel, and we will take immediate action for the removal of individuals who violate our Fan Code of Conduct, which is followed by all 30 of our Clubs," an MLB spokesman told FOX Business.
Neither MLB nor Red Sox officials have identified which fans are accused of directing racial slurs against Jones. At present, it's unclear if the individuals responsible will face criminal charges.
"The Boston Police Department has been made aware of the incidents and is working with the Red Sox and Orioles organizations to determine whether the incident warrants a course of legal action," a Boston Police spokesperson told FOX Business.
The Red Sox, Major League Baseball and several Massachusetts officials apologized to Jones. MLB Commissioner Robert Manfred called the incident "completely unacceptable."
"My office has been in contact with the Red Sox, and the club has made it clear that they will not tolerate this inexcusable behavior," Manfred said Tuesday in a statement.  "Any individual who behaves in such offensive fashion will be immediately removed from the ballpark and subject to further action. The behavior of these few ignorant individuals does not reflect the millions of great baseball fans who attend our games."