MLB, ESPN Bank on Daily Fantasy Sports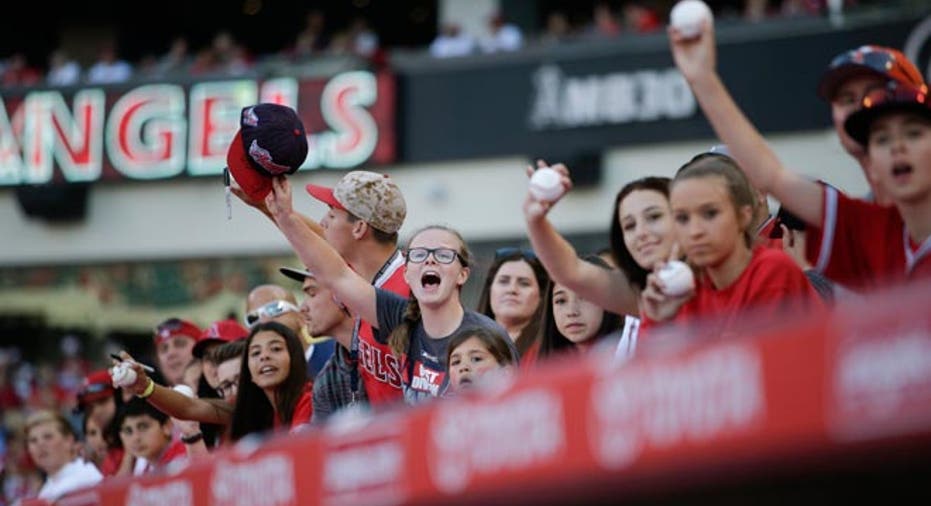 The sports world has long bet on the Field of Dreams plan: If you build it, they will come. But as more television content vies for America's attention, even industry heavyweights like Major League Baseball and ESPN can't take their audiences for granted.
That's where daily fantasy sports come into play.
In traditional fantasy sports leagues, fans pick players in mock drafts and follow their team's performance over the course of a full season.
Daily leagues raise the stakes. DraftKings, FanDuel and other upstarts run one-day Internet games that follow a growing list of sports, including baseball and football. Some contests are free, although most require play-in fees, and every game includes the prospect of cash prizes.
For franchises and TV networks, it's a natural partnership since fans are more likely to tune in—or head to the stadium—if they have a vested interest in the game.
MLB, Walt Disney's (NYSE:DIS) ESPN and the National Basketball Association are betting on it. ESPN is reportedly the newest investor in DraftKings, the official daily fantasy game of MLB, and the NBA formed a partnership with FanDuel last fall.
"There's an interested, motivated audience that obviously wants to watch games where they have players," said Neal Pilson, the former president of CBS Sports and current president of Pilson Communications. "What's really surprising is what took everyone so long to get here."
The business has seen rapid growth. DraftKings, the second-largest daily fantasy sports site, expects to pay out $1 billion in prize money in 2015, well ahead of last year's total of approximately $300 million. The Boston-based company also sees annual revenue increasing as much as fivefold, projecting sales of $100 million to $150 million.
Despite drawing comparisons to sports betting, daily fantasy sports are legal across most of the U.S. Both DraftKings and FanDuel say they offer games of skill, not chance, and there's little overlap between their users and gamblers.
"Daily fantasy sports is a game of skill that takes a certain level of dedication. It's much more involved and therefore attracts a different kind of consumer," DraftKings spokeswoman Femi Wasserman explained.
MLB Swings for the Fences
DraftKings, which acquired rival site DraftStreet in 2014, said baseball is one of the company's fastest-growing sports. Participation in MLB contests on DraftKings has risen nearly eightfold over the past year.
Just in time for the 2015 season, MLB expanded an exclusive partnership with DraftKings that includes a co-branded daily fantasy game. DraftKings is also teaming up with individual MLB clubs for promotions at the ballpark.
"Our partnership with MLB allows us to reach our demographic: sports fans who are very engaged," Wasserman said.
DraftKings views daily games as a compliment to season-long fantasy sports leagues. The company has determined that fans often add on daily fantasy sports, thus boosting their overall consumption. According to a DraftKings survey conducted during last year's baseball season, 70% of respondents said their sports consumption increased after they picked up daily fantasy sports.
"Teams, media….everyone is benefiting. We're very good at acquiring highly engaged fans," Wasserman added.
FanDuel, the largest provider of daily fantasy games, announced its own exclusive agreement in November when it joined forces with the NBA. The New York-based company also partnered with franchises including the Brooklyn Nets, New York Knicks and Chicago Bulls.
What caught the NBA's attention? FanDuel users are 50% more likely to watch more games on TV. "This is very valuable to franchises and the league itself," FanDuel spokeswoman Justine Sacco said.
Across all sports, more than one million people participated in one-day leagues on FanDuel during the fourth quarter of 2014.
FanDuel says more than $10 million in cash prizes are up for the taking each week. Just two years ago, combined weekly payouts peaked during the football season at $2 million.
Media Backers
Popular fantasy sports destinations like ESPN, CBS (NYSE:CBS) and Yahoo (NASDAQ:YHOO) mostly generate revenue from advertising.
Major sponsors have allowed those sites to offer big cash prizes for certain public fantasy leagues. The National Football League, NBA and MLB also run fantasy contests that dole out cash or other prizes, such as free trips.
One-day fantasy games are changing the game at a time when media giants are seeking new ways to boost revenue.
FanDuel is backed by the venture capital arm of Comcast (NASDAQ:CMCSA), which owns NBC Sports and a large portfolio of regional sports networks. Last summer, Gannett's (NYSE:GCI) USA Today joined the fray when it launched FantasyScore, a joint venture with RT Sports.
Early in April, multiple reports said ESPN agreed to invest $250 million in DraftKings, a major victory for the three-year-old site. The deal is said to value DraftKings at $900 million and include primary ad placement on ESPN platforms.
Wasserman couldn't confirm or deny the reports. An ESPN spokesperson also declined to comment.
Pilson believes sports media properties, which are paying billions of dollars to broadcast games, are gaining significant value through their investments. "There's no downside here," he said. TV networks are gaining viewers, and promotions for daily fantasy sites are now reaching millions of American homes.
The marketing push is in full swing for DraftKings with the baseball season underway. Wasserman confirmed that DraftKings is ramping up advertising, saying much of the site's growth can be attributed to fans who are hearing about daily fantasy sports from mainstream channels.
As for FanDuel, Sacco said the company has multiple marketing vehicles through its partnership with the NBA.
Mobile devices are also contributing to user growth. DraftKings saw participation increase following the launch of its first mobile app for Apple (NASDAQ:AAPL) devices in December 2013, and then after introducing an app for Google's (NASDAQ:GOOGL) Android.
Pilson said mobile users will be critical for investors like MLB, since fans are flocking to streaming video to keep track of their fantasy players.
"I can't imagine a reason why teams, leagues, sponsors, media companies and phone companies wouldn't have a strong interest in promoting daily fantasy sports," Pilson added.
MLB has seen its own digital enterprise continue to bloom. MLB.TV surpassed 100 million streams for the first time in 2014, and the league's At Bat app reached five million downloads at its quickest pace this season.