MLB Draft: How Much is the No. 1 Pick Worth?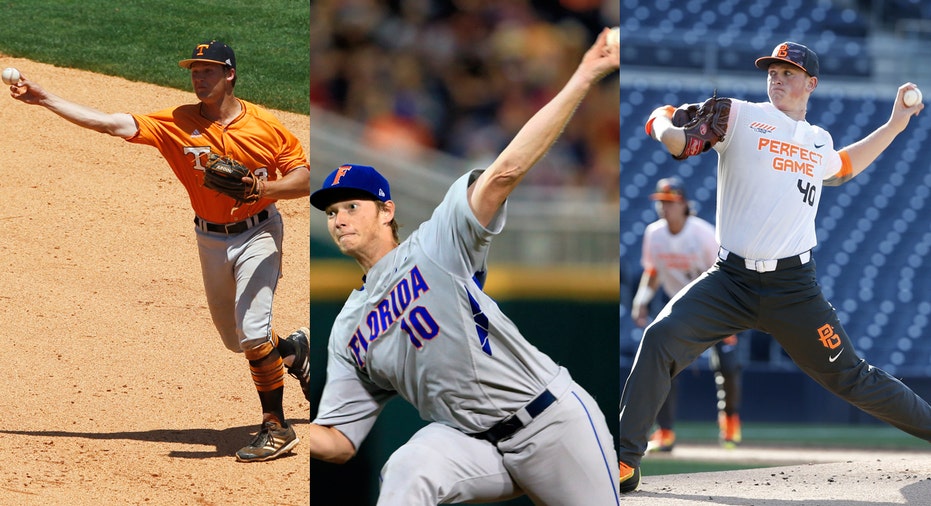 Record signing bonuses could be in play as the nation's top college and high-school baseball prospects line up for the 2016 MLB draft Thursday.
The Philadelphia Phillies have the No. 1 pick, which has an assigned value of approximately $9.02 million this year.  The current all-time record belongs to Gerrit Cole, who received an $8 million bonus after he was drafted first overall by the Pittsburgh Pirates in 2011.
However, the Phillies aren't expected to spend the full $9.02 million on the top pick. Draftees often receive less than their assigned values, and clubs can use those savings to overspend on later picks.
In 2015, the Arizona Diamondbacks agreed to pay No. 1 pick Dansby Swanson a $6.5 million signing bonus, leaving about $2.1 million in slot money on the table. (Swanson, a former Vanderbilt University shortstop, was dealt to the Atlanta Braves during the offseason.)  Louisiana State University shortstop Alex Bregman, the Houston Astros' selection at No. 2 overall last year, also received a smaller bonus ($5.9 million) compared to slot value ($7.4 million).
MLB assigns values to each pick in the first 10 rounds of the 40-round draft. Assigned values increase each year to reflect MLB's revenue growth, so this year's picks are worth 4.62% more versus 2015.
Combining slot values for each club's picks, the league also calculates bonus pools that limit how much money a team can spend through round 10 without incurring penalties. The maximum bonus for players selected after the 10th round is $100,000. Anything over that amount also counts against a team's bonus pool.
The Cincinnati Reds have the largest bonus pool this year at roughly $13.9 million. The Phillies can spend slightly more than $13.4 million, and the San Diego Padres' bonus pool is the third largest at $12.9 million.
Across all 30 teams, bonus pools total $234 million. MLB franchises spent a record $248 million in draft bonuses in 2015.
MLB.com's latest mock draft predicted the Phillies will take University of Florida left-handed pitcher A.J. Puk with the top pick. The team has also been linked to several other players including Kyle Lewis, a Mercer University outfielder; Nick Senzel, a University of Tennessee third baseman; Mickey Moniak, a high-school outfielder from California; and Jason Groome, a high-school pitcher from New Jersey.
The opening round of the draft will begin at 7 p.m. ET Thursday. The deadline for teams to sign their 2016 draft picks is July 15.