Minneapolis Audubon Fires Back After Vikings Stadium Brush Off: It is 'Killing Birds'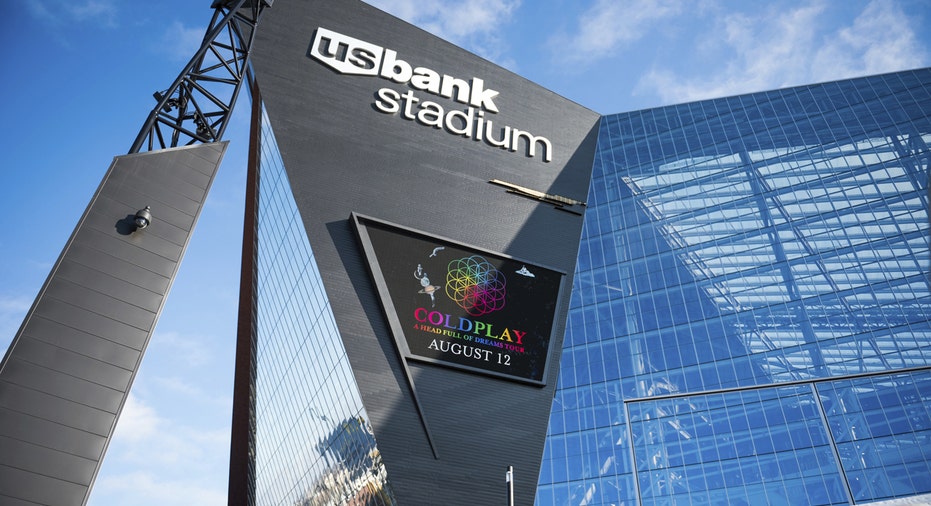 A Minneapolis-based conservation group is again crying "fowl" this week after Minnesota Vikings' new stadium officials and the Minnesota Audubon dismissed its report that the league's new billion-dollar stadium is deadly to local bird life.
The Audubon Chapter of Minneapolis released a study in February that charged U.S. Bank Stadium, the taxpayer-funded $1.1 billion facility, uses a type of bird-killing glass that reflects the sky, causing migrating birds to slam into its surface. The group, which projects at least 360 birds will die over a three-year period unless changes are made to the structure, plans to present solutions on Friday to the Minnesota Sports Facilities Authority.
The Vikings, stadium officials and Audubon Minnesota (the state chapter of the National Audubon Society) told FOX Business the study has holes, noting that its findings were "incidental" and that it was "not possible" to draw conclusions based on its methods. But Ann Laughlin, a board member for the Audubon Chapter of Minneapolis, said her organization stands by its findings.
"Our findings are not incidental – they really establish the fact that, as we predicted, birds are being killed by collisions with the stadium glass," Laughlin told FOX Business. "Of course we can draw conclusions. We draw the conclusion that 74 birds were found. The stadium is killing birds – that is the conclusion."
Laughlin noted that the observers who participated in the report discovered 60 dead birds and an additional 14 stunned birds in three months during the fall 2016 migration period, despite a limited monitoring schedule and stadium access restrictions. The report contends that its findings exclude any birds that stadium workers may have disposed of before they could be discovered.
Stadium officials argue the study does not meet scientific standards because they claim Minneapolis Audubon observers conducted their walks sporadically and presented their findings without a direct comparison to other local buildings during the same time period.
But Laughlin refuted that.
"We did compare it to one other building that was part of a previous study by [Minnesota Audubon] and that is in our report," Laughlin said.
She said the study found U.S. Bank Stadium's bird mortality rate would surpass that of an unnamed Minneapolis building that, according to a 2010 survey by Audubon Minnesota, was responsible for 250 collisions over a three-year span, for an average of 42 collisions per migratory period.
To address concerns from conservation groups, the Vikings and the MSFA are partnering with university researchers on a three-year study that will analyze the stadium's impact on bird migrations and make recommendations for potential fixes. The study is set to conclude in 2019.
"It is important to clarify that [the Minneapolis chapter's report] is in no way affiliated with a scientific study to be led by Audubon Minnesota in collaboration with Oklahoma State University and the University of Minnesota which will be subject to peer review prior to publication, a process that will ensure the highest possible transparency, validity, and credibility of the study," the Vikings, MSFA and Minnesota Audubon added in their joint statement.
An NFL spokesperson declined to elaborate on the league's role in the situation and referred FOX Business' questions to the Vikings. Team representatives declined further comment.
Bird groups have been outspoken on the new stadium since at least 2012, when its construction was first being planned and the Minnesota Department of Natural Resources advised MSFA officials to use bird-safe glass, per Audubon Minnesota's suggestion. At the time, advocates said the glass, which has a pattern that is easily identifiable to birds, would add an extra $1 million to construction costs, the Associated Press reported. The stadium authority declined, citing estimates that the actual cost would exceed $60 million.
Laughlin said her colleagues at the Minneapolis chapter will present possible solutions, along with "ballpark" cost estimates, to stadium officials when they open their meeting to the public on Friday. Aside from bird-safe glass, she argues that protective netting placed outside the stadium during migratory seasons could provide an alternative resolution far in advance of the state-backed study's conclusion.
"Make some fixes to the stadium right now before spring migration starts, make some fairly low cost fixes, then do your study and see what you see," she said.