Mike Piazza's Road to Cooperstown is American Dream
Mike Piazza has paved a long road to baseball's ultimate stop in Cooperstown. From the 62nd round of the Major League Baseball draft all the way to the Hall of Fame's class of 2016, the star catcher is living the American Dream.
Piazza was the 1,390th player selected in 1988, and he is by far the lowest draft pick to enter the National Baseball Hall of Fame. Piazza eclipsed the previous mark set by pitcher John Smoltz, who was chosen in the 22nd round in 1985.
For me, it's a true American success story. It's what our country is all about and what baseball is all about.
Despite flying under the radar as an amateur player, Piazza burst onto the big-league scene. He slugged 35 home runs and earned an All-Star Game nod in his first full season in 1993. The Pennsylvania native ultimately set the MLB record for the most homers hit by a catcher. Piazza wrapped up his 16-year career with a total of 427 home runs and an impressive .308 lifetime batting average.
Now Piazza has a spot reserved in the Hall.
"For me, it's a true American success story. It's what our country is all about and what baseball is all about," Piazza told a group of reporters at a Hall of Fame event in New York.
"You know, I think in this day and age because it's so digital and everyone's attention span is a little shorter, you don't put the time in on things…but you have to put the time in. You have to refine your craft," Piazza added. "Things aren't always going to come instantaneously, and that's proof positive for me."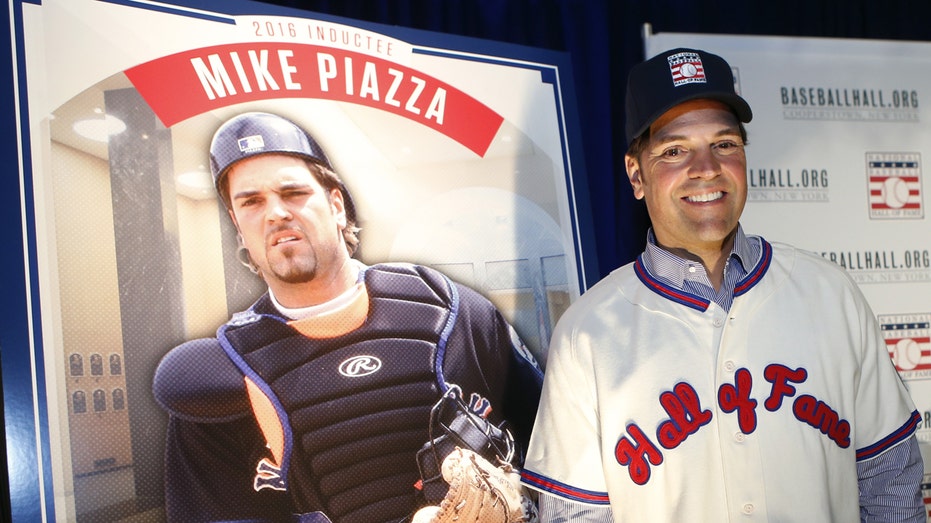 Piazza, who will wear a Mets hat in Cooperstown, was voted into the Hall of Fame alongside Ken Griffey Jr. this week. Griffey spent his 22 years in the majors with the Seattle Mariners and Cincinnati Reds, and he established himself as one of the game's greatest outfielders. Griffey garnered a record 99.3% of this year's Hall of Fame votes.
When the pair arrives to Cooperstown, N.Y., for its induction on July 24, it will be the first time Griffey visits the baseball museum. Griffey, who was a sure bet to be a first-ballot Hall of Famer, said he was too superstitious to step foot inside the building.
Piazza, on the other hand, wasn't as superstitious.
"I figured the only way I would get in there was to pay, so I went in," he joked.
Piazza had some advice for late draft picks like himself, saying they should believe in themselves, trust the people who support them and be willing to change for the sake of improvement.
His message holds true outside the sports world. Piazza himself has found continued success in retirement, pursuing various business interests including his family's chain of car dealerships.
"Trust that life is a journey. It's not a destination. There are going to be a lot of ups and downs along the way, but always be positive. You're attitude dictates a lot," Piazza said.