Microsoft's Challenge: Replacing Gates, Not Ballmer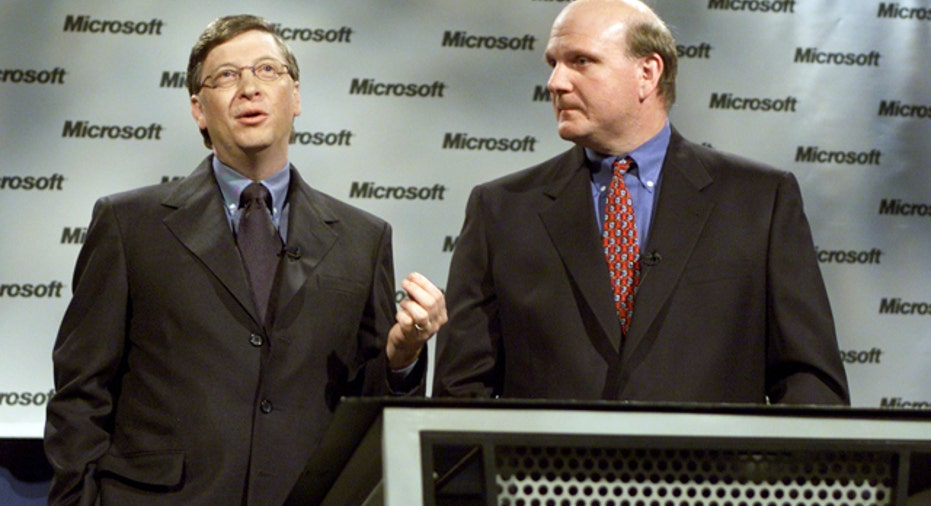 Frustrated by Microsofts (NASDAQ:MSFT) stagnant stock price and a flurry of product flops, some high-profile investors have decided the best way to fix the worlds largest software company is to show CEO Steve Ballmer the door.
Led by hedge fund star David Einhorn, they complain Ballmer is a clumsy innovator who misses out on hot products like tablets and smartphones while rivals Apple (NASDAQ:AAPL) and Google (NASDAQ:GOOG) reap the benefits.
Even though Microsofts recent track record shows those complaints have some merit, they miss the bigger picture: Microsoft doesnt need to replace Ballmer, who is a skilled operator of a cumbersome $200 billion ship. They need to replace Bill Gates, the genius who Ballmer should never have been expected to become in the first place.
After all, Ballmer was Microsofts No. 2 executive a decade ago, back when the company was the envy of the tech world. He served as the middle linebacker to Gates, unquestionably the companys quarterback.
Without Bill, you now just have the linebacker running the company, said Rob Enderle, principle analyst at the Enderle Group. They neither got Steve to step into the quarterback role, nor did they supplement him when Gates stepped out.
Clumsy Innovator, Stagnant Stock
The result was a company that has suffered serious execution problems on the innovation side and a stock price that has gone absolutely nowhere the past decade. In fact, last month IBM (NYSE:IBM) joined Apple in surpassing Microsofts market value.
The fact theyve been passed by two hardware companies has an awful lot of folks concerned, said Enderle, pointing to hardware companies vastly thinner profit margins. It shouldnt even be possible.
So how did Microsoft get here?
The companys biggest problem appears to be failure to recognize and execute on product ideas, particularly on the consumer side. Microsofts management shot down the R&D teams efforts to push into smartphones long before the iPhone became a blockbuster.
Likewise, Microsoft experimented with a pair of tablet devices -- the Windows tablet and the Origami -- years before the iPad became a revolutionary device.
Microsoft has become a clumsy, uncompetitive innovator, Dick Brass, a vice president at Microsoft from 1997 until 2004, said in a New York Times op-ed last year. While the company has had a truly amazing past and an enviably prosperous present, unless it regains its creative spark, its an open question whether it has much of a future.
Microsofts stock price reflects those concerns and the companys heavy reliance on its early blockbusters: Windows and Office, which still account for a huge chunk of its profits.
Shares of Microsoft have gained just 5.44% over the past five years, compared with a 43% leap for Google, a 110% rally for IBM and a 440% surge for Apple, now the tech worlds most valuable and admired company.
Ballmers "continued presence is the biggest overhang on Microsoft's stock," Einhorn said last week at an investment conference, becoming the highest profile investor to call for his ouster.
In Defense of Ballmer
While holders of Microsofts stock over the past decade would likely side with Einhorn, some say the blame has been misplaced.
Intel, Cisco and H-P have all basically been in the toilet since the dotcom bubble burst, said Charles House, a senior research scholar at Stanford and a former H-P exec.
Indeed, shares of Cisco Systems (NASDAQ:CSCO) have slumped 15% over the past 10 years, Intel (NASDAQ:INTC) is off 23% and Hewlett-Packard (NYSE:HPQ) has grown just 24%.
That isnt Ballmer. Thats the whole industry, said House. The whole industry got hyped during the stock boom and it has not from a Wall Street investment standpoint ever recovered.
By some metrics, Ballmer has fared better than his peers. For example, Microsofts 31.76% net profit margin is far better than the S&P 500s average 9.64% and exceeds that of software makers Oracle (NASDAQ:ORCL) and SAP (NYSE:SAP) as well as Apple and H-P, the worlds largest tech company by revenue.
Hes done a great job of being able to weather the storm, unlike Oracle, which is fully entrenched in enterprise software and not even considering looking at consumers as a growth opportunity, said Eric Chan, a management consultant for the tech industry and president Mobileslate.
Solving Microsofts Prolonged Slump
In a bid to double down on consumers, Microsoft scooped up Skype last month for $8.5 billion -- a price tag seen by many as too rich. While Skype is considered a cool platform that has lots of potential and is adding tons of new users every day, it actually posted a net loss of $7 million last year.
You cant buy your way to success in the innovation game, said House. Youve got to create it. Its just desperately hard.
So if booting Ballmer isnt the answer, then what is?
Some believe the board of directors should have stepped up long ago and hired a Gates-like innovator to help Ballmer run the vast company.
Its a very large, unwieldy, chaotic empire, said Roger Kay, president of Endpoint Technologies Associates, and its very difficult for one man to run anyway -- no matter who he is.
The visionary doesnt need to be the CEO, as Gates was, meaning Microsoft could hire someone just below Ballmer to take a more active role on the innovation side.
Yet there doesnt appear to be a clear candidate to take that job, nor is it apparent if he or she should come from inside or outside Microsofts walls.
Another idea that has been floated in the past is for Microsoft to separate into two different entities: one focusing on consumers and the other on enterprise.
In fact, a decade ago a U.S. judge ruled Microsoft should be forced to split up as part of the antitrust case against the company. Gates opposed the notion and the ruling was later overturned.
Splitting up today could help solve problems that arise when one divisions ideas impede on the wellbeing of anothers, creating a stalemate that stifles innovation. That atmosphere has helped cause a slow exodus of top talent, such as Stephen Elop, now the CEO of Nokia (NYSE:NOK).
The most successful firms are the ones that try to focus on a particular customer set, said Enderle. Consumers and IT buyers are vastly different people. Either side can consume you -- and if you let that happen the other side will fall off.