Microsoft Teams vs. Slack: What's the Difference?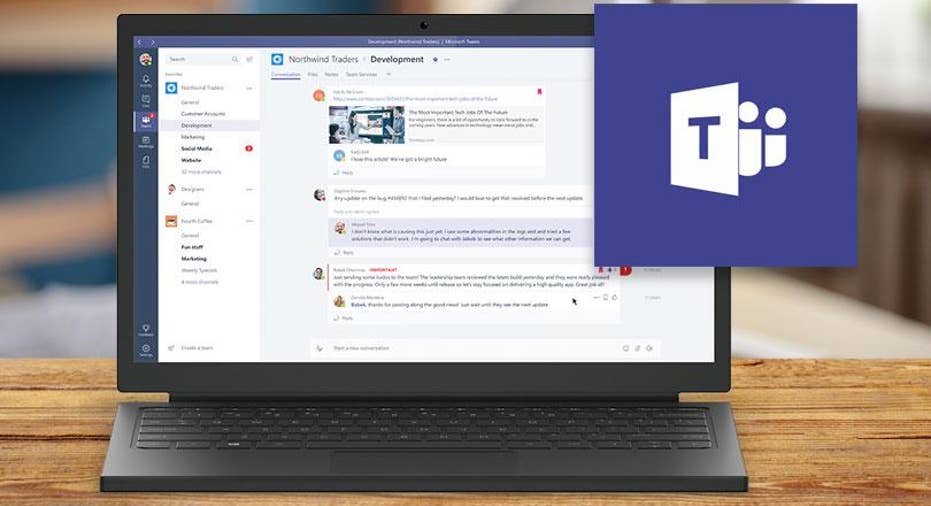 The first thing you'll notice about Microsoft Teams, Microsoft's new integrated collaboration app, is that it looks and feels just like Slack. The new tool that's based on Office 365 is immediate and direct competition for online collaboration software like Slack and Atlassian HipChat. On its face, the app looks exceedingly similar in look, feel, and the chat-based approach to communication. Under the surface, though, there's plenty of features and functionality to set the platforms apart.
In his opening address at the Microsoft Teams press event in New York today, Microsoft CEO Satya Nadella used examples like jazz ensembles, crew races, and cricket teams to talk about the unique, individual nature of how every team works best. You see that idea of team-specific customization throughout Microsoft Teams. Slack beat Microsoft to the punch this morning with an open letter to Microsoft, which called out three major pieces of "friendly advice" for Microsoft in building its Slack competitor: thoughtful user experience, an open platform, and its personal approach to customer service. Microsoft's Teams demo provided answers to at least the first two.
Kirk Koenigsbauer, Microsoft's Corporate Vice President for Office, called Microsoft Teams "a digital transformation of an open office space" that offers an open, fluid chat environment. In that respect, Teams is just like Slack.
User Experience: In the left-hand navigation bar of the Microsoft Teams app, there are tabs for Activity, Chat, Teams, Messages, and Files. The activity dashboard is a Yammer-like feed of everything going on in the organization; more or less an intranet. Like Slack, if your name is directly mentioned you get a red flag or exclamation point next to the message calling it to your attention.
Same goes for the Chat and Teams tabs, which show direct messages with coworkers and at the bottom of each chat window. There's also a conversation bar with options to type, send an emoji, sticker, or meme, attach a file, etc.
Slack also lets you customize and change the skin of your user experience with a long list of different theme options. Microsoft Teams isn't there yet. At the moment, if you click on the settings cog at the bottom of the left-hand navigation bar and select Themes, there are currently three options: the default light theme, a dark theme, and a high-contrast theme for the visually impaired.
Bots: Every Slack user is well-acquainted with Slackbot. It's your private chat window you can use to send yourself links and try out integrations or GIFs, and it can also answer your questions. Teams has two built-in helper bots: T-Bot and WhoBot. T-Bot is similar to Slackbot; it helps you answer questions using the data in Teams, but gives you multiple interfaces to do so. You can use the conversational-type bot interface you're familiar with from Slackbot, or tab over to the search and browse interface to type questions and queries in more like the Cortana search bar in Windows 10
WhoBot is where you start to see more stark differences in functionality. This bot is built atop the Microsoft Graph artificial intelligence (AI) framework, and answers questions about specific employees. It's essentially a bot that can search your company intranet from within Teams by pulling data directly from Active Directory.
The real value here is in the data it surfaces. WhoBot pulls out personal information including the person's department and manager, and can give you an entire organizational chart of who they report to in the company. WhoBot can also search for subject matter experts within the company, so you can ask a question like "Who knows about x?" and the bot will search Active Directory, files, and collaborators to find someone with experience to match.
Emojis, Memes, and Stickers: One of the most fun parts about Slack is the integrations, particularly when it comes to custom emojis and GIFs. Slack makes it easy to do a quick /giphy or /gif command, with plenty of secret commands to further customize. Microsoft Teams takes all that functionality and layers deeper built-in customization on top.
Mira Lane, the Principal UX Architect of Microsoft Teams, walked me through some of the deeper multimedia customization for power users. When you click on the multimedia option at the bottom of a chat, you get a pop-up window with a list of different options that looks very similar to the Facebook Sticker store.
First and foremost, there's a GIPHY integration. What Lane said makes Teams' integration different is the ability to preview the GIF you're about to pull up, rather than typing in a slash command and hoping for the best. This kind of preview feature with a scrolling list of GIF search results is similar to the GIPHY integration now housed in social apps like Twitter.
Then there's the custom meme generator. If you click the meme option in the pop-up box, you can upload a custom image or choose from popular memes and then add top and bottom text. More interestingly, Microsoft has taken the Facebook approach of creating its own library of Sticker sets. There are already dozens of them available, designed specifically for workplace humor with titles like Designer, Dev, Legal, Office Drama, and Bummer Bert (who I can only assume is the office sad sack and buzzkill). In this particular instance, Microsoft took a page out of Facebook's Messenger playbook in order to one-up Slack in the "fun at work" department.
The Skype and Office 365 Factor: The Stickers and GIFs are fun, but the first thing during the Microsoft Teams demo that really stuck out as a business game-changer is the seamlessly integrated Office 365 experience. Microsoft Teams brings every app in the cloud-based Office 365 suite into Teams in custom tab format.
If you click into a particular team and select Add Tab on the top right, you can add Word, Excel, Powerpoint, Meetings, Notes, Planner, SharePoint, OneNote, and a host of other apps as associated tabs with that team that essentially replicates the full functionality of the app without leaving Teams.
When a team is created, a SharePoint directory is automatically provisioned behind the scenes with a folder representing every channel. From there, you can choose a file and open it up directly in Word or Excel, or within that integrated Office 365 tab directly in Teams. This makes the content more searchable and easier to interact with than in Slack. While Slack's universal search is very powerful, its pinning capabilities can't quite match the SharePoint file mapping for being able to easily locate core or evergreen content your team needs to keep coming back to.
For a business intelligence (BI) tool like Microsoft Power BI in particular, you get the ability to tab over to Power BI within your "Marketing" team and interact with real-time data visualizations. This is a huge productivity boon of the tab-based integration system Microsoft is using in Teams (which we'll get to in greater detail in a minute).
Aside from the deep Office 365 integration and using things like the Active Directory to tie in deeper intranet functionality, Microsoft also has an edge in built-in video communication. Atlassian HipChat offers built-in video and Slack enables a number of great integrations start voice and video chats on-the-fly within the app, but Microsoft built Skype into the fabric of Teams.
A video icon next to a channel in the left-hand nav means there's an open video meeting going on. If you click into the team, you can click the "Join the Conversation" box in the main feed to jump into the ongoing Skype conversation embedded in the feed.
Tabs and Integrations: The tab-based structure of Teams gives the platform the ability to bring in deeper, more full-featured integrations than we've seen in other collaboration apps. At the moment, the Slack App Directory is far more expansive. Teams is launching with over 150 partners in developer preview today, but at the moment the built-in integrations are limited to a select few, namely Asana, Hootsuite Intercom, and Zendesk.
As with Power BI and the Microsoft apps, each integration appears as a custom-added tab in particular teams. If a support team needed to add a Zendesk integration, they would click Add a Tab the same way and have the ability to dynamically update and respond to tickets in a full-featured Zendesk interface from that tab. Adrian McDermott, President of Product at Zendesk, said the Teams integration has given the helpdesk company a chance to expose employee and customer reactions at a deeper level.
"The Teams integration enables us to focus communication between customers and the company that mirrors the way project teams are created," said McDermott. "You set up a Teams space to build this collaboration moment in time, and with our integration we were able to give teams a broader view of all the customer interactions around a subsection of an organization. Every ticket around this product launch can be addressed and resolved from within that team."
Another integration partner is project management app Asana. Chris Farinacci, Head of Business at Asana, said the tab-based experience gave the company a deeper level of granularity in its integration while providing a full top-down view of a project in Teams.
"We have integrations with a number of chat apps, but with Microsoft we've been able to build out a bit of a deeper integration," said Farinacci. "The integration here gives us visibility into the whole product structure in the tab. A lot of the work we've done in the past with integrations has been around creating, updating, and completing tasks at the individual action level. What we're doing here is giving you the whole process structure at a glance and see who's doing what and when. It helps keep the whole product launch team on the same page looking at the whole Asana launch plan."
Slack and Microsoft Teams are gearing up for a heated competition in the online collaboration space. In a race to add better features, more premium functionality, and built-in integrations with a wider app ecosystem, the winner will be the business users living in these apps. The more productive you can within your collaboration app, the less incentive there is to leave it.
This article originally appeared on PCMag.com.