Microsoft Office 365: Another Ray of Light From the Cloud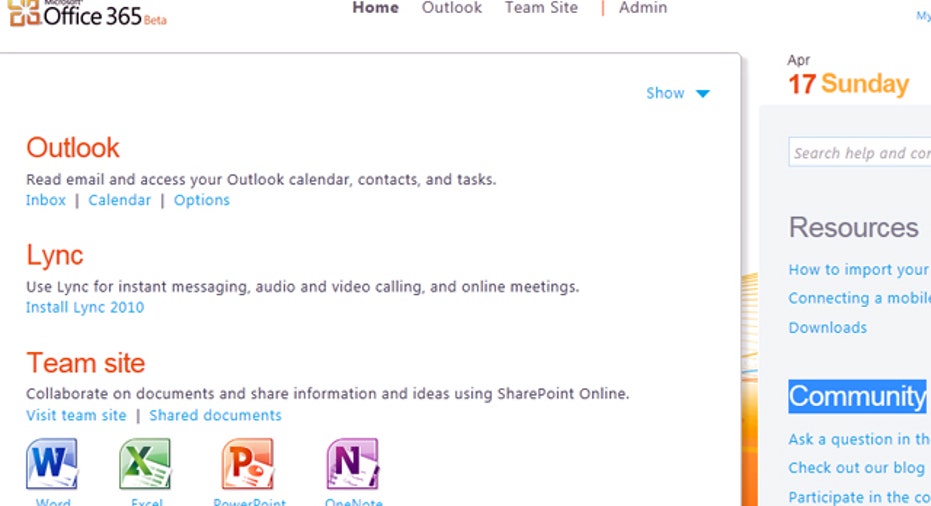 If business in the cloud is the ultimate goal, Microsoft Office 365 (NADAQ:MSFT) is a new rung in the ladder that gets you there.
Or better yet, a far taller ladder.
The power of the Microsoft Office suite has expanded greatly over the past few iterations, moving beyond mere calendars, emails and contacts into instant messaging, video chats, shared workspaces, collaborative computing, site hosting tools and more. To harness all that power, however, requires additional servers -- and pricey IT skills that can daunt a struggling small business.
To make all that power easy to use and available to anyone, the Windows giant on Monday rolled out a public beta of the new online tools that can power its Office applications suite: hosted, Internet services that take all the complexity out of running Microsoft Exchange and SharePoint servers -- and giving small businesses access to tools that would otherwise require teams of IT professionals and thousands of dollars.
To be clear, this isn't just online versions of Word, Outlook and so on. Services like Google Apps (NASDAQ:GOOG) and Office Web Apps are already available and free on the Internet -- and if you haven't tried these tools, you're missing out. Collaborating on the wording of a document or poring over a spreadsheet with someone across the country is as much of a game changer for business as TiVo (NASDAQ:TIVO) was for TV.
But that Exchange server you've been maintaining in the backroom (or on Phil the accountant's desk) has always been a hindrance, and gluing together the various services that let you create a website or team space or wiki or whatever you call it is far more complex.
Office 365 simplifies all that, and expands what your company is capable of seamlessly and easily. By moving the servers that power those features of your business out of your closet and into the cloud, you can offer new, advanced features to your team -- all for just $6/month per user.
Sound familiar? It should. Microsoft rolled Exchange Server into the clouds in February of 2010, when it unveiled the  Microsoft BPOS (Business Productivity Online Standard Suite). And Google's Apps for Business offers much the same functionality for just $5 per user.
So why go Microsoft -- what's new here? For one thing, the updated suite of tools with the user-friendly name Office 365 ties nicely into the programs and interfaces your people are familiar with -- you did upgrade to Microsoft Office 2007 and the controversial "Ribbon" interface, didn't you? Office 365 won't work with earlier versions of the software suite, unfortunately.
The heart of Office 365 is an online Exchange server, which works alongside of your current server or replaces it. Adding users and email accounts online is a snap, and managing those accounts -- even with your own custom domain name -- is so easy it should make IT admins ashamed at the rates they charge.
Office 365 brings many new features to the table as well, most notably Microsoft Lync, the proto instant messaging client that integrates directly into Office 2007 or 2010 and brings "presence" to your office apps. As you're writing an email, you'll see the Lync button light up to indicate a co-worker is online, and available for a quick chat: "Before I email the boss, did we really want cornflower-blue icons?"
Instant messaging has been common for well over a decade, of course, and quickly became something businesses latched on to. Like you, I too often instant message teammates sitting directly beside me (always with a silent lament for the days of speaking aloud). Many people rely on Skype, AIM, a Tipic client or Windows Messenger for this functionality.
Lync has been quietly around for years, offering powerful enterprise level functionality; it's instant messaging on steroids. Shared online whiteboarding? Calling different devices and numbers via VoIP, and seamless handoffs? Yep, it's all  in there. Previously, Lync required yet another server. Now, it's online.
Outlook 365 adds an online client for example, so even without installing the app, you can start a chat. It works across mobile phones as well, and offers a host of features usually only available to enterprise businesses – it's the kind of program you'll get more out of the more you explore -- all for that same low fee.
Creating a custom website was quick and easy too: I bought a domain name from GoDaddy, followed the instructions to port the back-end DNS information into the Office system, and was hosting the site in under an hour. From there, it's straightforward enough to add shared contact lists, meeting workspaces, a blog, whatever.
Keep in mind, SharePoint services simply aren't simple. That's not Microsoft's fault, of course: Versioning documents, checking them in and out, and insuring access levels and all that is complicated stuff. The point is, it's the kind of thing you can easily learn, especially with Office 365's relatively easy to learn and intuitive interfaces. And that's not something anyone would dare to say about a SharePoint server.
Office 365 isn't a wunderkind, and it's hardly seamless, however. Integration with Office Web Apps is almost nonexistent, for example. Sure, You can use the services, but you could always do that, and merely offering a way to do that doesn't mean they're tied together in anyway.
But I'm being picky.
If you're a small business looking to get web-savvy in a hurry, Office 365 is a great way to get online in a jiff – and then get right back to business.