Microsoft Eyeing Takeover of Barnes & Noble's Nook Assets?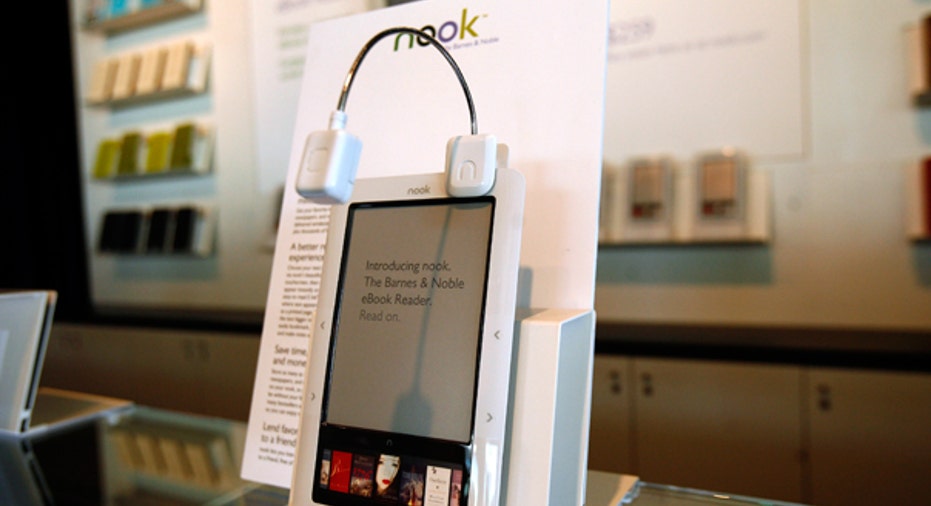 In yet another effort to try to tap a tech-savvy generation, Microsoft (NASDAQ:MSFT) is reportedly mulling buying the digital assets of Nook Media from Barnes & Noble (NYSE:BKS) for what TechCrunch says could be as much as $1 billion.
The news sent shares of the bookseller soaring as investors cheered the potential sale that would help Barnes & Noble unload a business that has been a drag on its sales and earnings over the last several years.
The deal wouldn't be a huge surprise as it comes months after Barnes & Noble further distanced itself from its e-reader business and about a year after Microsoft scooped up a 17.6% stake in Nook for $300 million.
Barnes & Noble, which in early 2012 announced plans to begin exploring strategic options for its investment in Nook Media, declined to comment on the report. Microsoft did not immediately respond to FOX Business, however TechCrunch says it has viewed "internal documents."
The structure of the deal would reportedly provide Microsoft with preferred units in Nook Media, leaving the tech giant with Nook's digital books and suite of e-readers and tablets. The Nook business also houses Barnes & Noble's college book operation.
The documents also include plans for Nook Media to discontinue its deal with Google's (NASDAQ:GOOG) Android, the operating system it uses to run its mobile devices, by the end of the 2014 fiscal year, according to TechCrunch.
That would allow Nook and Microsoft to work with other third-party partner devices.
Microsoft, of course, has its own set of mobile devices, including the Surface tablet, and its own software. While the Microsoft 8 launch earlier this year was met with disappointment, the company has pledged its commitment to the enhancement of its devices and services.
Redmond, Wash.-based Microsoft late Wednesday promoted veteran Office executive Amy Hood, 41, to chief financial officer, replacing Peter Klein who plans to retire at the end of June. CEO Steve Ballmer at the time said Hood's talents would complement the software maker's efforts as it looks to "strengthen our focus on devices and services."
Shares of Microsoft slipped slightly lower in early trade, while those of Barnes & Noble soared a whopping 21% to $21.40.
New York-based Barnes & Noble in January 2012 said it was considering a sale of the Nook business, a move that came on the tail of a shortfall in holiday sales as it continued to lose market share to the Kindle.
In February of this year, the bookseller's chairman, Leonard Riggio, revealed plans to buy Barnes & Noble's retail assets, including its 700 stores and website, a move intended to further separate the traditional book business from its digital Nook arm.
A day later, it revealed a 26% sales decline in the Nook division, widening the struggling business's losses by another 130% to $190.4 million. The earnings report had come after a warning from Barnes & Noble in January that Nook sales fell "short of expectations" over the holidays.