Microsoft CEO Steve Ballmer to Retire Within A Year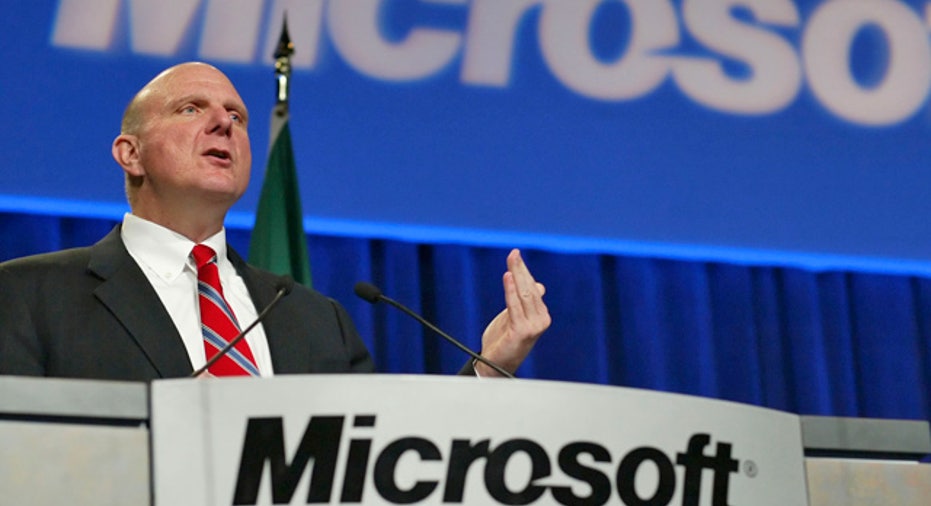 Microsoft (NASDAQ:MSFT) chief executive Steve Ballmer plans to retire within the next 12 months to end what would be a 14-year reign, the company announced Friday morning.
Shares reacted positively to the news, leaping 7.5% to $34.80 on the Nasdaq Stock Market. The stock is up 30.1% for the year.
Ballmer will remain in his post while the software titan searches for a successor. The company's board has created a special committee to begin the search process. John Thompson will chair the special committee, which also includes Chairman Bill Gates.
Both external and internal candidates will be considered, Microsoft said.
"There is never a perfect time for this type of transition, but now is the right time," Ballmer said in a statement. "We have embarked on a new strategy with a new organization and we have an amazing Senior Leadership Team. My original thoughts on timing would have had my retirement happen in the middle of our company's transformation to a devices and services company. We need a CEO who will be here longer term for this new direction."
Early last month, Microsoft unveiled several executive changes and a sweeping reorganization that organizes the company around eight functions.
Microsoft has long frustrated investors as it lags behind fast-growing tech companies like Google (NASDAQ:GOOG).
Meanwhile, the company recently reported a big fourth-quarter miss amid a weakening PC market. Microsoft also revealed a $900 million charge related to inventory adjustments for its Surface tablet.
"The company has clear issues," said BGC Partners analyst Colin Gillis, noting that PC sales peaked in late 2011. "The world's largest PC maker sold more smartphones than PCs in the last quarter."
With the massive restructuring, it was logical Microsoft would make a change at CEO, he added. Meanwhile, Gillis said that while the "anybody but Ballmer crowd" is driving up the stock Friday, there are still plenty of issues Microsoft must address.
"You have to remember that Microsoft has a long 12 months to go," Gillis said. "Is it more likely to get better or worse over the next 12 months? I think it's more likely to get worse."
Gillis added that there are a "whole range of gambits" available to Microsoft, including breaking up the company, focusing even more on hardware like Apple (NASDAQ:AAPL) or staying the course.
Here Comes Bill Gates?
Ballmer has a long history with Microsoft, joining the company in 1980 and eventually replacing Gates as CEO in 2000.
On Friday, he reiterated in a memo to employees that his original plan was retire in the middle of Microsoft's transformation to a "devices and services company."
"Our new organization, which is centered on functions and engineering areas, is right for the opportunities and challenges ahead," Ballmer said, referring to the recent restructuring.
"I cherish my Microsoft ownership, and look forward to continuing as one of Microsoft's largest owners," he added.
As for his replacement, founder Bill Gates is sure to have support among investors. But is Gates a plausible candidate to step in as CEO in 12 months?
"I wouldn't rule it out," Gillis said.