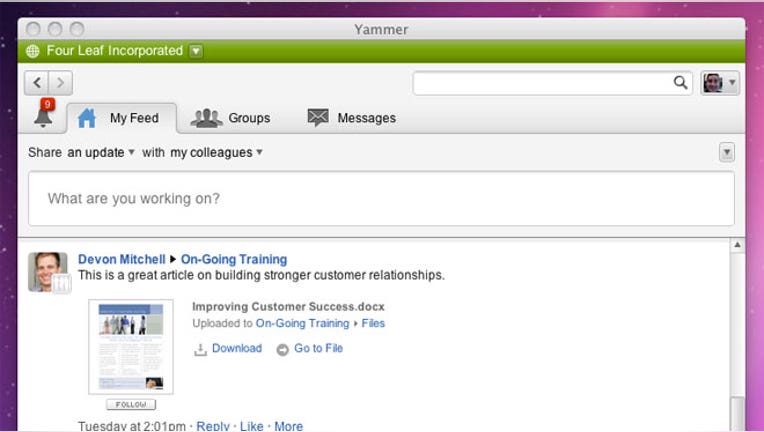 Microsoft (NASDAQ:MSFT) confirmed on Monday that it has bought privately-held enterprise social network Yammer for $1.2 billion in cash.
The business software maker will join Microsoft's Office division, led by president Kurt DelBene. The team will continue to report to current chief executive and PayPal co-founder David Sacks.
The announcement comes about 10 days after The Wall Street Journal reported a potential deal between the two valued at about $1 billion.
San Francisco-based Yammer was founded in 2008 and is seen as a private Facebook-style social network for businesses to share files and have threaded conversations.
The free service has more than 5 million corporate users and is used by 85% of the Fortune 500 companies, including eBay (NASDAQ:EBAY), which now owns PayPal, and Ford (NYSE:F).
"When we started Yammer four years ago, we set out to do something big," Sacks said. "We had a vision for how social networking could change the way we work."
The acquisition by Microsoft comes a little more than a year after it bought popular video-calling service Skype for $8.5 billion. Veteran technology companies like Microsoft and Oracle (NASDAQ:ORCL) have been busy scooping up startups in an effort to better compete with an intensifying competitive marketplace.
They have also been building their enterprise social media portfolios as businesses continue to seek new ways of reaching their target audience. Salesforce.com (NYSE:CRM) earlier this month said it would buy social marketer Buddy Media for $745 million.
The Yammer deal is expected to add to Microsoft's suite of Office products, including Microsoft SharePoint, Office 365, Microsoft Dynamics and other cloud-based business products and services such as Skype.
"The acquisition of Yammer underscores our commitment to deliver technology that businesses need and people love," Microsoft CEO Steve Ballmer said in a statement.
The deal is subject to customary closing conditions and regulatory approvals.