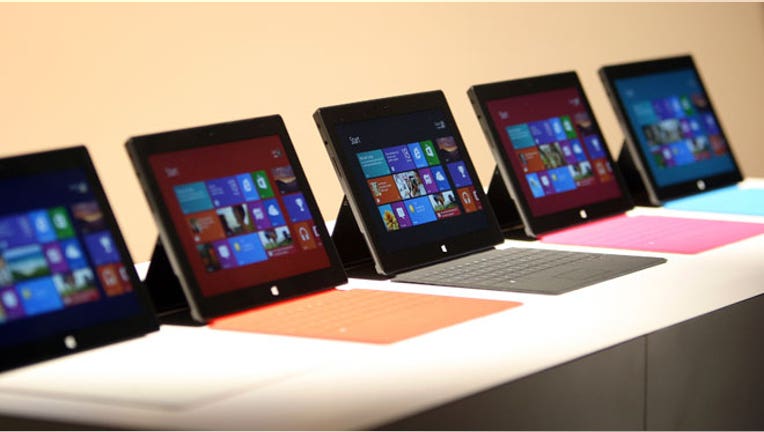 Microsoft Corp. (NASDAQ:MSFT) has entered the tablet market, announcing the launch of two models of a Microsoft-branded tablet PC, dubbed the Microsoft Surface, late Monday afternoon in Los Angeles, Calif.
The much-hyped announcement was shrouded in mystery, drawing many comparisons to similarly executed Apple (NASDAQ:AAPL) product launch events.  Members of the media received invitations to the event late last week, and only learned of its specific location at Milk Studios, a photo studio in Hollywood, earlier Monday.  When asked why Los Angeles was chosen as the site of the announcement, a spokesperson for the company told FOX Business "there's only one LA," and would not elaborate.
Chief Executive Steve Ballmer kicked off the special announcement by giving a history of the company's hardware products, before passing off to Steven Sinofsky, president of the Windows division who demoed the Surface for Windows 8 Pro.  Sinofsky called the Surface "a stage for Windows."
The Surface comes in two variations; the Windows 8 Pro model, powered by a third-generation Intel Core processor and running on the Windows 8 Pro operating system, is for more of a PC-experience.  Surface for Windows RT runs on an ARM processor and uses the Windows RT operating system, and is comparable to an ARM tablet.  Notable features on both models include a 10.6-inch display and front and rear cameras. Both devices also include a built-in kickstand and full multitouch keyboard with trackpad, while the Surface for Windows 8 Pro also includes its own pen with digital ink.
The company said pricing would be announced closer to availability, yet hinted the Windows 8 version, which comes with either 64 or 128 GB of storage, will be priced similarly to Ultrabooks, while the Windows RT model, offered with 32 or 64 GB storage, will be priced competitively with ARM tablets.
The tablets mark Microsoft's entry into the PC-hardware market after years of focusing primarily on software design and leaving hardware development to companies like Hewlett-Packard (NYSE:HPQ) and Dell (NASDAQ:DELL).
Shares of Microsoft fell 18 cents, less than 1%, to $29.84 during the regular session Monday.  The stock was up about 1% in after-hours trading.